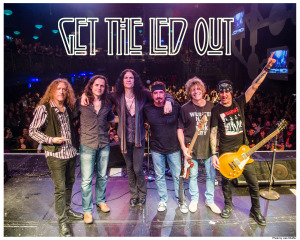 GET THE LED OUT TO PERFORM AT APG FEDERAL CREDIT UNION ARENA
Acclaimed Led Zeppelin Tribute Band's Special Appearance is Part of Nation-Wide Tour
Baltimore, MD — Get The Led Out, the "American Led Zeppelin", will be performing at the APG Federal Credit Union Arena on October 25 as part of its nation-wide tour. During this epic show, the phenomenal tribute band will recreate the recorded music of Led Zeppelin with the studio overdubs that the "mighty Zep" was never able to recreate on the concert stage themselves. When one hears three guitars on the album, Get The Led Out delivers three guitars on stage. Get The Led Out brings what the audience wants … a high energy, Zeppelin concert with an honest heart-thumping intensity.
Having amassed a large tour following, Get The Led Out has performed at theaters across the country and recently headlined Red Rocks in September. The band has become so popular, in fact, that guitarist Paul Hammond was recently featured in Guitar Player magazine (June 2014) and the lead singer Paul Sinclair was asked to join the Zac Brown Band on stage at two recent concerts. Its bass player Billy Childs was even a founding member of the 80s hit band Britny Fox and guitarist and piano player Andrew Lipke is an accomplished musician and composer.
For more information about Get The Led Out, please visit www.GTLOrocks.com.
[follow_me]