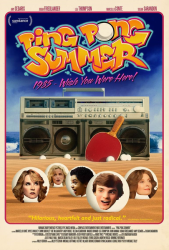 Starring: Susan Sarandon, Marcello Conte, Lea Thompson, Amy Sedaris, John Hannah, Judah Friedlander, Emmi Shockley, Robert Longstreet, Myles Massey, Maddie Howard
Rating: NR
Directer: Michael Tully
Synopsis: Rad Miracle goes on vacation with his family to Ocean City, MD, where he encounters his first love and a mentor for his ping pong obsession.
Before I get into the actual review, I just have to say I was pretty excited for this film since it was announced. Not just because it was being filmed entirely in Maryland, and showcasing the incredible film industry we have here, but because it was set in my favorite era, the 80's.
The film is set in and filmed entirely in Ocean City, every Marylanders favorite summer travel destination. The exterior shots of the beach, ocean and boardwalk are absolutely stunning. The great thing about filming in Ocean City is that everything is basically still the same as it was in the 80's. The charm has been preserved, and the townspeople are OK with that.
The film revolves around Rad Miracle, a awkward teen from Mt. Airy, who heads to Ocean City with his mom, dad, and sister. There he meets Teddy who shares his passion of Hip Hop. Rad is mystified by the town beauty, Stacy, as any teenage boy would be really. He also meets the town douches, Lyle and Dale, who after seeing his infatuation with Stacy and skill in Ping Pong, challenge him to a match of epic proportions.
Rad meets the town recluse, Randi Jammer, and discovers she was a ping pong champion. In fear of losing the ping pong match and the girl, he asks her for help. Randi reluctantly says yes, and forms a Mr. Miyagi-esque bond with Rad.
One of my favorite scenes in the film has to be when Randi is teaching Rad how to focus on his craft. "Ball location, ball location, ball location." Wax On Wax Off, hello! Classic line
The cast is perfect in every way. You have your vets: Susan Sarandon, Lea Thompson, Amy Sedaris who give top notch performances. Then you have Marcello Conte, Maddie Howard, and Myless Massey who give awkward, honest, and charming performances..and I loved every second.
I attended a Q&A after the screening with Director Michael Tully at the Charles Theater, where he revealed that this film has been in his head for 20 years. He used to go on vacation in Ocean City with his family. He fell in love with OC, and wanted to pay tribute to it in film form. And yes..he loved Hip Hop. Another great aspect of the film is the soundtrack. It's chok full of 80's Hip Hop. My personal favorite tracks have to be "Popcorn Love" by New Edition and rock anthem "Broken Wings" by Mr. Mister.
If you're a fan of the 80's, Ocean City, or Club H20 (yes..there's a foam party!) go see this film..NOW. Also available on iTunes and Video On Demand.
4 out of 5 stars
Note: This review originally appeared on I Hate JJ Redick as a contribution.