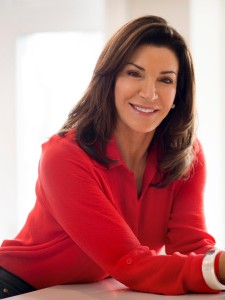 I talked to Hilary Farr about interior design, "Love It Or List", and "Rocky Horror!"
Q: Where were you born?
I was born in Canada, but I grew up in England
Q: I read that you first dabbled in musical theater, and actually co-starred in "Rocky Horror." What was that experience like?
I hardly was a co-star! (laughs) I didn't even have a speaking part. I was extremely young, and all my friends were apart of that film. They liked my work, and decided to create a part for me out of nothing. It was great fun.
Q: When did you know you wanted to become a designer?
I didn't know, actually. It happened by chance. I had moved a few times. Everyone loved my house in Los Angeles, so I decided to turn into a business.
Q: You're credited with being the first to stage properties for sale in Toronto. What's better, staging or not?
You must stage if you want to get the optimal price. Buying a home can be very emotional for people, like finding their perfect partner. If you don't have a reaction, it's going to be much harder to sell. I want them to LOVE the house. You have to create a sense of being a home. The more you can do that, the more you can make it into a place your buyers can imagine their family. That way, you have a better chance of selling it. I always got way over asking price!
Q: What is your favorite part about "Love It Or List?"
It's a combination. I love the crew and I love my co-host, David. I'm doing what I love to do. I've been able to open the clients eyes, as well as the audiences.
Q: Does it hurt when you think the homeowners will LOVE IT, but they choose to LIST IT?
Its OK because in the end, I want them to end up in the right house. If I renovate a small house, and they need bigger, there's really nothing I can do.
Q: Does any renovation stands out to you design wise?
There are so many. I can't choose just one!
Q: Are you enjoying filming "Love It Or List It" in North Carolina?
I wish the weather would warm up! Haha! Beyond that, I love it. The people so far are happy!
Q: At the end of the day, would love 'Love' David, or 'List' him?
I'd list him with the right buyer. But I know that's not going to happen. So, I have no choice but to love him!
Watch "Love It Or List It" Mondays at 9pm on HGTV!
Follow Hilary on Twitter HERE
[follow_me]