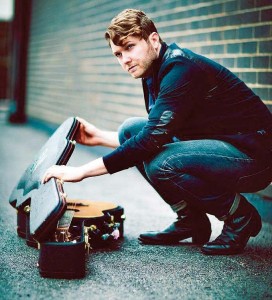 I talked with "The Voice" contestant Luke Wade about his experience on the show, his music, and touring.
Q: When did you know you wanted to become a singer?
I started writing when I was 17. I started to practice singing and playing the guitar. I soon realized I had to get good at singing. ::laughs::  I love singing, but love the writing aspect more.
Q: Do you have any musical influences?
Early on I had to clean my moms dance studio to earn my allowance. We would play classic albums from Led Zeppelin, The Beatles, Bob Marley, Otis Redding. Later stuff would include Dave Matthews Bands, Nirvana, Stone Temple Pilots, Ray Lamontagne. Those are heavily influences for sure.
Q: Did you learn anything from being on THE VOICE?
I learned a lot about myself. Mostly the way I respond to challenges in my life. Its interesting to be thrown into a competition. You find out pressures of the industry. We had wonderful coaching. Trelawny Rose was our vocal coach. She's spectacular. I learned what it takes to operate at that level of professionalism.
Q: How would you describe your style of music?
It's an umbrella of pop/soul/folk. I try to tell stories that are personal to me. I try to use a soulful voice and make it something that people can connect with.
Q: Favorite song you've written?
It would have to "Til The Fighting Is Through." I close most shows with it. It's me at my most raw and vulnerable. I think it's important for artists to go out and put themselves out there.
Q: Favorite part of performing live?
The fans. Creating a moment with them. It's about the connection with myself and others.
Q: How did it feel opening for Patti LaBelle at the Anniversary of the Selma march?
It's one thing to open for a legend, but it's another to be a part of history. It's the recognition of movement that's shaped our countries future. To have my music a part of that is something that I'll never forget.
Q: Are you excited about traveling the country on your current tour?
Its been my life long dream to get in a bus with my best friends, and make our music for people and then perform for them. When I blew out my candles on my birthday cake..this has been my wish for so long. I finally get to do that. It's wild to work for something for 12 years and finally realize it.
Q: Are there any artists you'd like to work with?
Pharrell. I love his music and he's a great human. I know that I can learn from him. Id love to connect with Ray Lamontagne, Amos lee, and David Gray for sure.
Luke is in Annapolis this week, playing at Rams Head On Stage. Buy tickets HERE
Visit Luke's website HERE