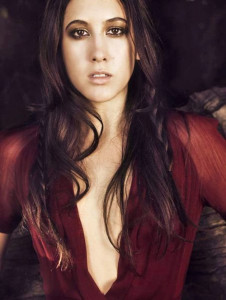 I sat down with singer/songwriter, Vanessa Carlton!
Q: When did you start playing the piano?
I started playing when I was around 2 and a half years old.
Q: Favorite song you've written?
I like a song called "The Marching Line" very much. But my relationships with my songs change all the time. I sing "Carousel" to my daughter a lot.

Q: "A Thousand Miles" has been featured in "GLEE", "Gilmore Girls", "White Chicks", and other TV shows and films. How does it feel hearing one of your songs in visual media?
I think it's crazy that I have a song that dug it's way so deeply into pop culture. Cause most of my songs are weird. I mean I think I'm pretty good at writing a melody but I got lucky with such a big hit. To this day I don't get it.

Q: Do you have any musical influences?
I'm influenced by classical music and modern music and poets. Aaron Copeland, Debussey, Philip Glass. Pink Floyd, Fleetwood Mac, Bob Marley, Doves, Portishead. Runs the gamut.

Q: What do your fans mean to you?
My fans are awesome. I always enjoy their vibe. I really appreciate people supporting me and wanting more. It's amazing. I try and deliver the goods in return. I still release records so that i can keep connecting with the fans.

Q: What can we expect from you music wise this year?
Im releasing an album called "Liberman" in the fall.
Vanessa will be performing April 23rd at Ram's Head On Stage. Buy tickets HERE