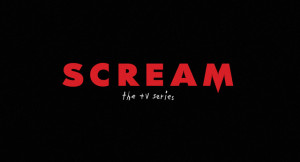 Plot: After going viral, an Internet video soon leads to problems for teenager Audrey and seemingly serves as the catalyst for a murder that opens up a window to the small town of Lakewood's troubled past.
Starring: Willa Fitzgerald, Bex Taylor-Kaus, John Karna, Amadeus Serafini, Conner Weil, Carlson Young, Jason Wiles, Tracy Middendorf.
When this project was first announced by MTV, I hated the idea. "Scream" is a classic horror film, and I felt it would be gutted (pun intended) by a teeny bopper network. Not to mention, the iconic Ghostface mask wouldn't be featured.
Well..color me surprised. The show has a cast of young fresh faces, lead by Willa Fitzgerald, Conner Weil, and John Karna. All three are standouts here. Karna is pretty damn funny in his role. He reminds me of myself. (sort of) Remember Randy Meeks? Hello! Kieran, played by Amadeus Serafini, is the 'cool cat', mysterious type. My early pick for the killer? Maybe. I think this is Amadeus' breakout. Kid will be doing big things! The cast is rounded out by TV vets Jason Wiles and Tracy Middendorf.
I for one am glad MTV opted to keep the gore intact. With these types of shows, you can't censor gore. Isn't that the point? The story itself is pretty interesting (don't worry peeps, no spoilers here). A twist has already been revealed, involving Tracy Middendorf' character, but I feel there's something deeper. Deeper than bone. Another part I liked, was instead of always calling the victim, they would send a text. That's such a testament to the sign of the times.
All in all, I liked "Scream." Nothing scared me, but there were a few hints of the original film script and tension wise. Hopefully, the next 9 episodes lead up to a great finale. I would love "Scream" to be an anthology series like "American Horror Story."
Who knows..maybe Sidney Prescott will return in a future installment… 😉
"Scream" airs Tuesdays 10pm on MTV!