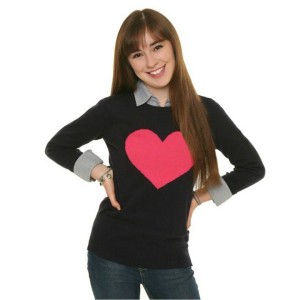 FOR IMMEDIATE RELEASE
Baltimore-Born Pop Sensation to Return for Z104.3 and Girls' Life
Magazine's One Direction Pre-Party
Back-To-School Fashion Bash in Baltimore is Set To Be The Celeb-Studded
Teen/Tween Party of The Summer
BALTIMORE, MD – July 20, 2015 – On Saturday, August 8, Baltimore-born rising pop sensation, Kristina Lachaga, will return to Baltimore to take the stage at iHeartRadio's Z104.3 and Girls' Life magazine's Back-To-School Fashion Bash. The third-annual fashion and music festival will take place at Power Plant Live! in downtown Baltimore from 2 to 5p.m., and serve as Baltimore's Pre-Party for One Direction's concert that same night at M&T Stadium.
Lachaga, 20, who writes her own songs and music, is thrilled to return to the city where it all began to perform at what looks to be Baltimore's teen-event-of-the-summer. "The Girl With The Big Pink Heart," as she is known by her fans, will be performing some of her original songs, including "No Doubt" and "Won't Wait Forever," which are now available on iTunes, in addition to announcing her new partnership with a fellow
Baltimore native.
Z104.3 and GL's Back-To-School Fashion Bash will be 3 hours of fashion, music, celebrity appearances/Meet & Greets (including cast members of Nickelodeon's Bella and the Bulldogs), and fun for teen and tween girls. The event features a fashion show with this season's hottest trends for all, makeovers, manicures, photobooths, fashion face-off challenges, tons of giveaways, and more exciting surprises. Plus, the first 200 girls to arrive will receive Fashion Bash Swag Bags filled with the best in beauty, fashion, and entertainment gifts. Fashion Bash is free and open to thepublic. Attendees can pre-register to secure their All-Access Fashion Bash
pass
online:http://www.glfashionbash2015.eventbrite.com<http://www.glfashionbash2015.eventbrite.com/>.
At #GLFashBash, Lachaga will premiere her soon-to-be-released single "R.S.V.P.," written as the companion song for one of Simon and
Schuster/Aladdin MIX's newest tween book releases, You're Invited,
co-authored by Jen Malone and Gail Nall. Lachaga met fellow Baltimore native Jen Malone, 20th Century Fox publicist turned middle grade/young adult author, in early May and was offered the opportunity to write and record a song inspired by their book.
You're Invited follows the story of four best friends that decide to form a party planning business called 'R.S.V.P.' in their small beach town over the summer and how their business aspirations affects their friendships with each other. Lachaga trusts You're Invited will be a new favorite book among tween and teen girls and believes its story and message will resonate with them.
"Each girl in You're Invited has her own unique personality and different strengths –I could definitely see a bit of myself in each of the main characters. I love that the book touches on important topics for tweens and teens – being true to yourself while still finding out who you are, the value of true friendship, and following your heart's dream. I wanted to make sure I incorporated those themes into my song "R.S.V.P." and I hope readers will enjoy the book as much as I did, share it with their best friends, and then play "R.S.V.P." on repeat!"
"R.S.V.P." will not be released on iTunes until early Fall 2015, but
Fashion Bash attendees will have the opportunity to hear the song first when Lachaga performs it live on August 8. Fans will also have the opportunity to meet "The Girl With The Big Pink Heart" at the
Back-To-School Fashion Bash and post pictures with the hashtags
#GLFashBash and #FollowYourHeartsDream.
This year, Lachaga opened for Heffron Drive featuring Kendall Schmidt of Nickelodeon's Big Time Rush and performed at 94.5 PST's Easter Egg Stravanganza, Six Flags Great Adventure, the New Hampshire/Vermont Girl Scouts' Girl Expo, and the Girls World Expo tour, promoting her #FollowYourHeartsDream message in several states across the U.S. A great way of promoting your message at an expo could be to give away custom clothing embroidered with branding, logos, or words that convey your mission statement – check here to see what kind of clothing you can order. She was also invited to visit Ryan Seacrest Studios in Atlanta for an in-studio performance and interview. Additional upcoming appearances this summer
include performances at the New York State Fair and Hersheypark.
Kristina has remained actively engaged in spreading positive messages and inspiring fans all over the country. She performed on a 17-week nationwide concert tour promoting Anti-Bullying and, more recently, performed at the Girls on the Run Spring 5K and in New York City at the GlamourGals Glammy
Scholarship Awards.
Off the stage, Lachaga has kept busy with many charity initiatives,
working with the TODAY Show Toy Drive, Ronald McDonald House Charities, and United Way to donate "The Girl With The Big Pink Heart" Holiday Gift Packs to pre-teen and teen girls across the country.
Lachaga knows that once Charm City steals your heart, there is no going back. One thing is for sure, her heart goes in 'One Direction' and it always leads her back to Baltimore, "Baltimore has and will always have my heart. I love coming back to my first hometown for everything from visiting the Inner Harbor and Oriole's games to getting Baltimore's famous Snowballs with extra marshmallow and even dentist appointments! Whenever Baltimore calls my name, I'll be there."
Find out more about Kristina Lachaga, "The Girl With The Big Pink Heart,"
at http://www.kristinalachaga.com<http://www.kristinalachaga.com/> and on
Instagram, Twitter, & Facebook @kristinalachaga.
Find out more about Z104.3 and Girls' Life magazine's Back-To-School
Fashion Bash/One Direction Pre-Party and pre-register online at
http://www.girlslife.com/fashionbash2015
Find Jen Malone at http://www. jenmalonewrites.com and on Twitter
@jenmalonewrites
Find Gail Nall at http://www.gailnall.com and on Twitter @gailecn
###