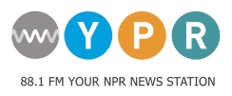 WYPR ANNOUNCES EXPANDED ROLES FOR SHEILAH KAST & TOM HALL
(Baltimore, Md.) – WYPR General Manager Tony Brandon announced today several important program changes.    
Beginning October 5th, Sheilah Kast, current host of Maryland Morning will become the host of Midday, which will air from 12:00 p.m. to 1:00 p.m.  Tom Hall will become the host of Maryland Morning, WYPR's cultural and public affairs show that airs Mondays, Wednesdays and Fridays at 9:00 a.m.  Following Midday, WYPR will air Here and Now, a lively and in-depth two-hour news program produced by WBUR in Boston and NPR News. 
Kast and Hall launched Maryland Morning in 2006.  Last year their interviewing earned the show a duPont-Columbia University award for Excellence in Journalism for "The Lines Between Us," a yearlong series that looked deeply into the roots and repercussions of inequality in the Baltimore region. 
"I am excited about the opportunity to take the conversations I've been having about Maryland news and public affairs to a new level and looking forward to engaging listeners directly," said Kast.
Kast brought years of journalistic experience as a newspaper reporter, an ABC News correspondent and an NPR substitute host when she came to WYPR almost a decade ago.  She covered the White House, Congress and the 1991 Moscow coup that signaled the end of the Soviet Empire.  She also emcees the Baltimore Speaker Series presented by Stevenson University. 
Hall knows Baltimore well through his 34 years as music director of the Baltimore Choral Arts Society.  As a journalist, he is highly regarded for his insightful conversations about topics ranging from politics to poetry.  Hall anchored WYPR's primary and general election coverage in 2014.  In 2007, he was named Best New Broadcast Journalist by the Maryland Chapter of the Society of Professional Journalists and, in 2009, Baltimore City Paper named him Best New Radio Personality. 
"I look forward to continuing Maryland Morning's tradition of covering all of the things that matter most to everyone who, like me, cares deeply about our city and our state," Hall said.  "WYPR plays a major role in shaping the debate about all of the important issues that affect our state and our region, and I'm grateful for the opportunity to continue this important work with Sheilah Kast and her colleagues at Midday, as well as Joel McCord and our fine WYPR news department."
"Sheilah and Tom offer the very best of radio journalism and they will both bring incredibly broad knowledge of Maryland to our listeners," said Brandon. 
Earlier this month, WYPR announced the departure of Dan Rodricks as the host of Midday as he focuses on his Baltimore Sun column as well as his newly launched blog and other projects.   
WYPR is an NPR station. The station produces and broadcasts local programs including Midday and Maryland Morning as well as news coverage and special editorial programming. As a listener-supported radio station, all contributions to the station are tax-deductible to the fullest extent of the law. For more information, visit www.wypr.org or call 410-235-1660.