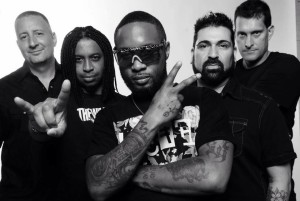 I talked with Nokio from Black Angel Down about his transition from Hip Hop to Rock, and the Baltimore music scene.
Q: What is your favorite part of performing live?
It has to be the reaction of the crowd. There's no barriers..you have the freedom to express yourself.
Q: You're one of the founding members of Dru Hill. Was it difficult to transition into a different genre of music?
I kind of left myself open to do whatever after Dru Hill. Rock was just a progression. When the opportunity presented itself, I was ready. We're all committed to Black Angel Down. It's been one of the best parts of my life.
Q: What is your favorite Black Angel Down song?
That's a tough one. My favorite to perform is "Sniper Scope." There's so much energy and motion in it. Another one of my favorites is a song that we're releasing closer to Shindig, called "Kicked Out Of Heaven." We've gone through a lot of changes in the band. The new material is the first thing we've recorded as this unit.
I have to say, that I absolutely loved your song "Wind."
That goes without saying. When we started rehearsing, we said if people don't get that song, they won't get us at all.
Q: Do you have a favorite venue or festival that you've played?
SXSW. It was one of the greatest experiences of my life and career. No one really knew who we were, so it was an opportunity to win over a whole new legion of fans.

Q: What is your favorite part of the Baltimore music scene?
It's so cool to be a part of the scene that I was born and raised in. The creativity goes without saying. I love being able to go to a bar and hear bands that I've never heard, and walk away so impressed. I've gone up to a few and asked where they're playing next. There's a tight knit family feeling, especially in the rock community.
Q: Are you guys excited about playing Shindig?
Man..let me tell you. We have been waiting the last few years to get on this show. Every year, we've gone out and worked our butts off. I'm glad we've been given the chance to showcase in front of Baltimore. We play in different venues around the country, but playing a large festival in front of your home town..nothing can beat it.

Black Angel Down plays The Shindig Music Festival 9/19! Buy tickets