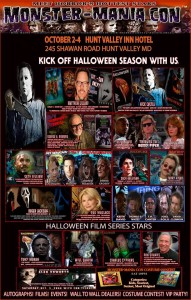 This weekend I attended the Monster Mania Convention in Hunt Valley. This was my first time staying at the convention hotel (Hunt Valley Inn) and enjoying all the sights.
I arrived Friday night in that horrendous rain storm, checked in, and immediately went to the Celebrity room. Since I interviewed Dee Wallace a few weeks prior, I was kind of (VERY) excited to meet her. I've been a huge fan of her and her films for a while now.
I walked up to her and introduced myself. Yup. She knew who I was. Talked about STOKED.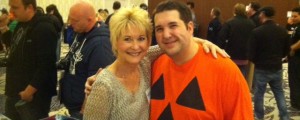 Here are some of the other guests I met on Friday:
Will Sandin, Michael Myers Age 6 from "Halloween"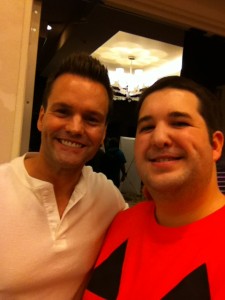 Nick Castle, who played The Shape in "Halloween"
That Orioles hat THOUGH.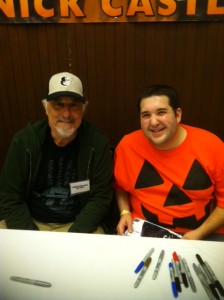 Miko Hughes from "Pet Sematary", "Wes Cravens New Nightmare", and yes.."Full House."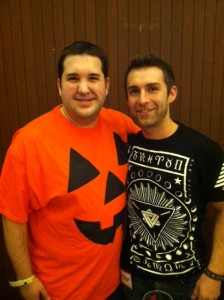 Salisbury native Dale Midkiff!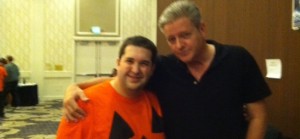 Charles Cyphers, a.k.a Sheriff Brackett from "Halloween" and "Halloween 2"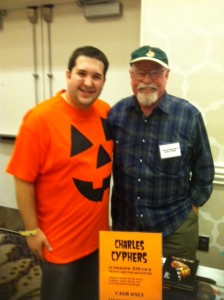 What followed was a night of debauchery..but you probably don't wanna hear about that. (If you do, just email me)
I figured I would get Matthew Lillard's autograph Saturday morning..but nope. Was wrong. His line was soooo long even at 11am. SIGH.
So I figured, why not grab Zach Galligan and Jordan Ladd's autographs?
Yup. Billy from "Gremlins." Yup. I have a Gizmo shirt on.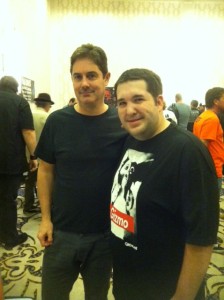 Cheryl Ladd's daughter, and star of "Cabin Fever." Such a sweetheart!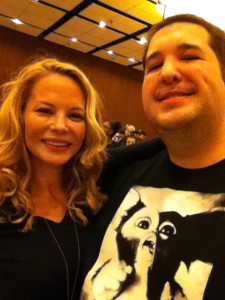 That evening, I attended several horror panels. Dee Wallace and Meg Foster were first. My favorite part? Dee Wallace dropping the F bomb.
Rob Dimension: "I thought this could be a 'Lords Of Salem' panel, or maybe a strong women panel.."
Dee: "Oh, we can talk about whatever the fuck we want to talk about!"
You go, ET's mom.
The next panel was the "Pet Sematary" reunion. Yes, even Zelda was there. That voice is soooo creepy. Miko Hughes ("Gage") was absolutely hysterical throughout the entire panel.
Dale Midkiff was asked "What was it like working with Churchill The Cat?"
His response: "Well, as an actor they tell you to not work with animals and kids. I was fucked, wasn't I?"
Epic.
The "Halloween" panel was great as always. It featured several actors who played Michael Myers at different ages, Charles Cyphers (Sheriff Brackett) and Tom Atkins ("Halloween 3: Season Of The Witch") . The panel painted a deeper picture of HALLOWEEN lure, and shared some cool inside stories!
The final panel of the evening was the Matthew Lillard/Roger Jackson "Scream" panel. You may not have seen Roger Jackson before, but I'm 100% sure you've heard him..he was the voice of "Ghostface!"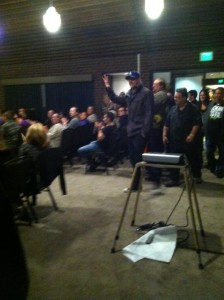 Matthew is HILARIOUS. Roger Jackson kept freaking him out by doing the Ghost Face voice. And they did dueling Shaggy voices at one point. He talked about "Serial Mom", and how it was one of his favorite experiences ever. He shared a story about John Waters:
"In between takes, John come up to me and said 'You're doing fine, but try to make your performance less faggy."
The audience ROARED in laughter.
Closing out the panel, he reflected on Wes Craven, and how much of an impact he had on his life. Needless to say, there wasn't a dry eye in the house. Lillard absolutely looked up to Craven, and appreciated everything Wes had done for him.
Cut to Sunday:
Yes. I FINALLY got to meet Matthew Lillard. He stood and talked to everyone personally for a few minutes. Genuine dude right there, folks.
What a great, ghoulish weekend. Dave and Doug Hagan run a TOP NOTCH horror convention, that I'll be attending for years to come!