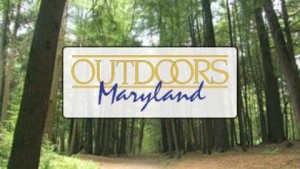 New season of Maryland Public Television series Outdoors Maryland
explores Maryland's natural beauty
OWINGS MILLS, MD – The 28th season of Maryland Public Television's award-winning series Outdoors Maryland will premiere on November 10 at 7:30 p.m. on MPT-HD. The series, which is produced in cooperation with the Maryland Department of Natural Resources, showcases the state's diverse collection of ecosystems, people, and places.
Outdoors Maryland's November episodes take viewers to a variety of scenic locations including Nassawango Creek and Poplar Island on the Eastern Shore, Point Lookout State Park in Southern Maryland, Belvoir Plantation in Anne Arundel County, and Western Maryland's Greenbrier State Park and newly discovered caves near Cumberland.
Over the years, Outdoors Maryland has presented hundreds of stories on topics ranging from science-oriented environmental issues to unusual people, animals, and places around the state. The program aims to communicate one message: Maryland is a small state, but one filled with a stunning array of natural beauty and diverse landscapes.
New episodes of the series air on November 10, 17 and 24 at 7:30 p.m. on MPT-HD. Consult MPT's schedule online at mpt.org for additional broadcast dates and times. For more information about Outdoors Maryland, visit mpt.org/programs/outdoors-maryland.
About MPT
Launched in 1969 and headquartered in Owings Mills, MD, Maryland Public Television is a nonprofit, state-licensed public television network and member of the Public Broadcasting Service (PBS).  MPT's six transmitters cover Maryland plus portions of contiguous states and the District of Columbia.  Frequent winner of regional Emmy® awards, MPT creates local, regional, and national television shows.  Beyond broadcast, MPT's commitment to professional educators, parents, caregivers, and learners of all ages is delivered through year-round instructional events and the super-website Thinkport, which garners in excess of 19 million page views annually.  MPT's community engagement connects viewers with local resources on significant health, education, and public interest topics through year-round outreach events, viewer forums, program screenings, and phone bank call-in opportunities.  
# # #