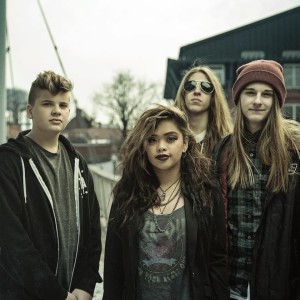 I talked with Francheska from Baltimore's own Bad Seed Rising! We chatted about life on the road, and hearing their song in the hit movie "Spy."
Q: How did Bad Seed Rising form?
We formed together through the Let There Be Rock School. We all were in different bands but we wanted to come together and write originals.

Q: Do you have any influences?
Yes, we all do. Personally for me, I take interest in Dance Gavin Dance, Bring Me the Horizon, Being as an Ocean, Black Sabbath, J. Cole, Kendrick Lamar, and Issues.
Q: Favorite song that you've written?
So far on the A Place Called Home EP, it would be Mess. Starts out with high energy and it's a lot closer to me than other songs.
Q: Favorite part of performing live?
Haha, what isn't my favorite part? The rush of energy, the release of emotions, being physically and mentally lost in the music, the people screaming back at us. It's all amazing.

Q: Pros and cons of life on the road?
Pros: Adventure, Exploring, discovering, watching the mountains and landscapes pass us by.
Cons: Sometimes too hot, too cold, too smelly, not enough hygiene, but most importantly never enough time on the road.

Q: What was your reaction when you found out "Bad Seed Rising" was featured in the movie "Spy?"
I cried. Sorry I'm a wuss about it but I actually did. I was so happy. I was going through a rough patch with the chemicals in my brain, and hearing that gave me hope for the first time in a long time.

Q: What is your favorite venue to perform?
Damn, that's tough one. It's a hard question to answer, cause it hasn't been about the venue, but the crowds. A good place to play for us has been Blue Fox Billiards in Winchester, VA. It's a small smokey joint, but it was always filled up and the people are always excited. Another one is a place we just played for the first time with Issues and PVRIS, The Masquerade. Such a dope old school spot. It was great, it was sold out, filled with kids our age. Which is our favorite type of crowd to play in front of, the youth love to get crazy and get involved with our performance. Even though they didn't know any of our songs. Can't wait to go back to that in November with Ghost Town.

Q: Are you excited for your Baltimore show in November?
Yes! We love playing our hometown, our families and OG fans come out and support. Its always amazing to see their faces.
Bad Seed Rising is rocking Ottobar on 11/21. Buy tickets
Follow Bad Seed Rising on Twitter