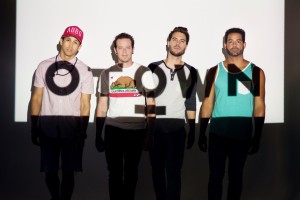 I sat down with Jacob from O-Town recently. We chatted about "Making The Band", and reuniting with his band mates.
Q: When did you know you wanted to be a musician?
I was really young. My dad would sing and play guitar around the house. I remember seeing Michael Jackson's moon walk…it was one of my first memories. When I saw Michael doing it I was hell bent on performing.
Q: Who are your personal musical influences?
Oh, a ton of different artists. I missed The Beatles generation, obviously, but I caught up as a kid. Bruno Mars, The Weeknd. I've been listening to 21 Pilots lately. I always try to take time to listen to something new.
Q: What was your experience like on "Making The Band?"
It was a unique one..a whirlwind. We didn't realize what we were doing. The show wasn't about the drama, it focused on the music. It's funny, people would RUN from our cameras..reality TV wasn't big then. We were told it was going to be a fad. Now, majority of TV is reality shows.
Q: Your biggest hits were "Liquid Dreams" and "All Or Nothing." What is your favorite song that you've recorded?
One that comes to mind is "Love Should Be A Crime." However, the newer stuff is really great. "Chasing After You" is a throwback to Michael Jackson.
Q: Was it a hard decision in 2003 to disband?
No, that's the funny part. We were in a really good position to go even further. We did over 315 shows a year, while shooting a TV show. People just got into other things.
Q: How did it feel in 2013 to reunite with Erik, Trevor, and Dan? What was the fan response?

We had been getting offers to get together for real, but there was always one person that couldn't do it. Ashley didn't feel like it was the right time for him.  The fan response was unreal. At first, the deal was to only do one single. The record company loved it, so they optioned a full album. There were about 750 people at our first U.S. tour date. We stayed and signed at least one thing for each fan.
Q: What do your fans mean to you?
Honestly..they're everything. I can sit here and right songs and have fun, but to be able to do it for a living is terrible without people not appreciating it.
Q: Are you excited about your upcoming tour?
VERY excited. Especially our Baltimore date. We had a stop scheduled April 29th, but due to curfew the show was cancelled. We were driving through the city as the unrest was starting, so we just kept on going. We wanted to come back to our Baltimore fans and make it right.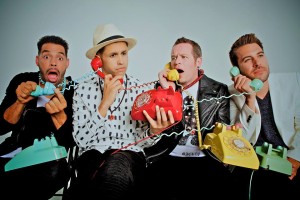 O-Town is in town January 11th at Soundstage. Buy tickets here
Follow O-Town on Twitter
Follow Jacob on Twitter
Visit their Official Website