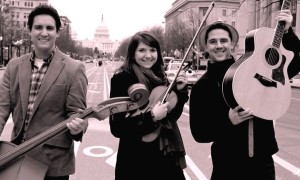 I spoke with Meghan from 19th Street Band about their love of music, and their infamous cover of "Gin and Juice."
Q: Where are you from?
I'm from Bel Air, MD and Caolaidhe grew up in Holywood, Northern Ireland (a small town outside of Belfast). We're now married and reside in Rockville, MD. Mike was born in D.C., raised in West Virginia, went to high school in Annapolis, and moved back to D.C. for music school. He currently lives in DC with his wife and son.
Q: How did the band form?
In 2007 Caolaidhe co-founded an Irish rock band called Turf DC. I met him shortly after that and auditioned to be the fiddle player for the band. Mike had been playing in the DC area for years with various other bands, and a high school friend introduced him to Turf. It turned out that I already knew Mike from attending the same college. When Turf disbanded, the three of us stuck together and formed The 19th Street Band.
Q: When did you start playing music individually?
I began taking violin lessons at age 7, and was classically trained. In high school, I studied Irish fiddle and received a degree in Music Education. Caolaidhe began playing guitar at age 11, taking lessons and teaching himself. He attended a music col-lege in Belfast as well as Belcanto Singing School in Dublin, Ireland. Mike's dad was a Southern Baptist minister and his mom played piano, so his first musical memories were singing gospel songs in church when he was about 4 or 5 years old. After that, he tried learning how to play pretty much any instrument he could get my hands on.
Q: Do you have any influences?
I love listening to any music that incorporated a violin in the band/song and trying to learn the fiddle parts (Dave Matthews Band, Dixie Chicks, "Bitter Sweet Sym-phony", lots of country music). Although he grew up in Northern Ireland, Caolaidhe spent his childhood listening to American classics such as Johnny Cash, Merle Haggard, Waylon Jennings, and Bob Dylan, along with being influenced by the music of Rolling Stones, Libertines, and Van Morrison. All of Mike's early influences were gospel groups and artists that most people have never heard of, like The Mckaymees, Psalty the Singing Psalm Book, Fanny Crosby, etc. Once playing music for a living became the goal, his scope widened considerably to include pop music, classical, jazz, blues, and bluegrass.
Q: I'm just throwing this out there. Your "Gin and Juice" cover was absolutely amazing. My whole party enjoyed that one the most. What is your favorite cover?
Gin and Juice is certainly one of our favorites. We love taking well-known songs and arranging them to suit our instrumentation. It's always a lot of fun to watch the crowd reaction as people slowly realize that the bluegrass song that they are listening to was written by Snoop Dog or Michael Jackson.
Q: Favorite part of performing live?
A performance is very complex in terms of anticipating the ebb and flow of energy from the crowd, playing your part well while being entertaining, and giving 100% every night even if your tired or not feeling well. When it all comes together, it's a really spe-cial moment. The audience gets excited, and so do we. Everyone starts dancing and smiling. It's a lot of fun!
Q:Favorite original song?
"Shake Your Asses" is always a blast, because people start raising their glasses, cheer-ing and having a good time! "I Drink My Whiskey From a Shotgun Shell" is another one of our favorites just because it's raucous and fun to play.
Q: What has been the response to your live shows?
The response has been unbelievable. Everyone we've met in the D.C., Maryland, and Virginia area been so supportive of what we do, and we owe it all to them. It all started with one show, and everybody just spread the word to their friends and neighbors. The next thing we know, we're all doing this full time, and living our dreams. We are very excited to be playing more in the Baltimore area, and we hope to see you guys out at a show soon. Thanks to every single person that has come out and shown support over the last five years!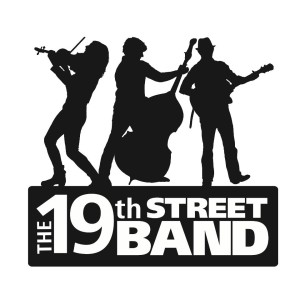 Visit their Official Website
Follow them on Twitter
'Like' them on Facebook