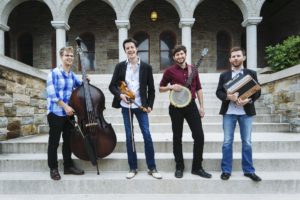 I chatted with Patrick from Charm City Junction about their career thus far, and  perks of teaching music
Q: Where were you guys born?
I was born in Hereford, Maryland. Brad grew up in Guilford, Sean in Parkville. Alex's father was in the military, so he lived in many places, but he's an adopted Baltimorean by our clan.
Q: How did you get into music?
Brad and Sean's fathers are prominent musicians in the local folk music scene, so they've been around it all their lives. Alex and I didn't grow up in musical families. I picked up the fiddle at age seven when I saw a friend playing it, and Alex decided to take up upright bass when he was eighteen.
Q: How did the band form?
The band formed after a party at my house in Towson in fall 2013. Charm City Junction performed their first shows in 2014, the Creative Alliance being one of them. Big Al would drive all the way from Fairfax, Virginia, where he was an elementary music teacher, to come jam with the rest of us. Soon enough, Alex, Brad, and I moved in together in Hampden. We still live together this day.
Q: Is there a story behind the band's name?
The first part of the bands name is a nickname of our beautiful home, Baltimore. The second part refers to the meeting point in which our respective traditions (Irish, Bluegrass, Old Time, and Jazz) all meet.
Q: Is it hard teaching music to children and adults?
Teaching is wonderful, no matter the age. It feels great to share what we've developed, help others achieve their goals, big or small. We want to light a fire beneath them.
Q: What is your favorite part of living in Baltimore?
Has to be the people. They're quirky, just like we are, and we love 'em for it. We feel blessed to be a part of this community.
Q: Are you excited about your show at the Creative Alliance?
We are so stoked for that show! They've given all of us so many performance opportunities individually outside of the group as well. They were one of the first to host us in our first year in 2014. We're also very excited to collaborate with Jordan Tice and his group Horse County, which features two of the best musicians the folk world has to offer. Jordan and I grew up playing music together in a Baltimore based group called Smooth Kentucky with Cris Jacobs and Ed Hough. It's wonderful to have this opportunity to reunited and celebrate with awesome acoustic music!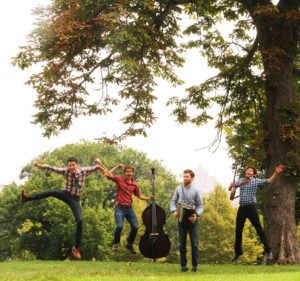 Charm City Junction headlines The Creative Alliance 6/9!
Follow Charm City Junction on Twitter
'Like' them on Facebook
Visit their Official Website