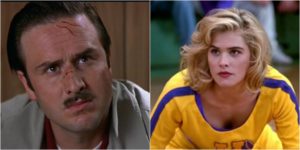 It's that time of year again..
Monster Mania time!
David Arquette and Kristy Swanson are the first two guests to be revealed for the annual horror convention in Hunt Valley.
Arquette is best known for his role as Dewey Riley in the "Scream" franchise, while Swanson is best known as playing the original "Buffy The Vampire Slayer." Ironically, Arquette was in "Buffy" as well.
Monster Mania 35 runs September 30 – October 2 at The Hunt Valley Inn.