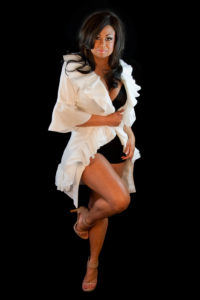 I chatted with CeCe Peniston about what she's been up to since her global hit, "Finally."
Q: When did you start singing?
I started out when I was a little shorty ::laughs:: Around ten or so.
Q: Who influenced you growing up?
Chaka Khan, Stevie Wonder, Luther Vandross..I LOVE Jennifer Holliday!
Q: What was it like hearing your song "Finally" on the radio for the first time?
I was SO excited! My heart was palpitating. I was rocking around the room screaming "My song is playing man!" You have a dream as a child, and then at 21, it comes true. Best feeling in the world.
Q: How have you matured since your previous success in the 90's to now?
I understand the business a lot more. I had no idea what I was doing at first..I was a kid from Arizona walking around with red glasses on. ::laughs:: I would consider myself a better woman and business woman for sure. And I did get a little cuter as I got older. I know how to ::snaps:: put it together. ::both laugh::
Q: Do you feel that social media can make or break you in this world today?
Absolutely. In an instant, you can have a billion followers. Once something goes viral, that's a WRAP! It's great to be able to communicate with people who like your stuff and who support you. But then you have the people who want to troll you, and make nasty comments toward you. Or they'll report when you've had a bad show..back in the 90's all we had was pagers! Not HD video ::laughs:: You have to take the good with the bad.
Q: What do your fans mean to you?
Oh my fans mean everything to me. They help me maintain my light. I've received so much support from the LGBT community, and people in general since "Finally" was released. It blesses my heart to hear their stories. I try and do my best to treat people the way they treat me. I have quite a large gay following actually. Just the other day, someone sent me a message that "Finally" was playing in the background of a fuckedgay.xxx video! You know you have really made it when your song features in a gay porn video ::laughs::
Q: Are you excited about performing at Baltimore Pride this Saturday?
Oh yes!! I've been working on a new Pride show, and I can't wait to perform it for you guys.
CeCe is headlining Baltimore Pride this Saturday!
'Like' CeCe on Facebook
Follow CeCe on Twitter
Visit her Official Website
VIDEO: CeCe on "Celebrity Wife Swap"