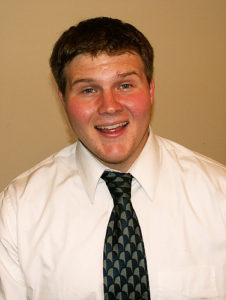 I chatted with local comedian Erik Woodworth about the challenges of being a comic, and the upcoming benefit for Ellicott City.
Q: When did you know you wanted to be a comedian?
Not sure.  Somewhere around Middle or Elementary school. I wasn't particularly tough or cool. So I found being funny was the easiest way to be accepted.
Q: How hard is it balancing your personal and professional life?
I don't know, it's life, everyone's busy. I sacrifice time with my family to make people laugh. I turn down shows when I need to be home. Not much different than what everyone does, except I make $10's of dollars to do what I love.
Q: I hear you like rugby. What is your favorite part of the sport?
The people and culture. It's like nothing on the planet. To see thirty guys beat the crap out of each other for eighty minutes, then have a beer with them right after…no other sport fosters that kind of sportsmanship or community.
Q: What is Die Laughing Productions?
Think "Fellowship Of The Ring" but with dick jokes. We're a group of comedians and entertainers brought together by Joe Robinson and Rob Maher. We perform five (and counting) different comedy murder mysteries. They are interactive theater and improv, and the audience is tasked solving the murder.
Q: What was going through your mind when you saw the flooding in Ellicott City?
I was wondering if we were going to do comedy on the roof the following week.
Q: Was it tough getting such a great lineup together for the comedy relief show for Ellicott City?
No. Pretty much everyone I asked was more than willing to help. Everyone on the show has done comedy in Old Ellicott City, so they know how special it is. People were messaging me before I even organized the event. The only hard part was saying "no" to so many other comics that wanted to help. The outpouring of funny people willing to volunteer was amazing. This is basically "Live Aid" of Maryland comedians. Come out..help save a City and laugh doing it.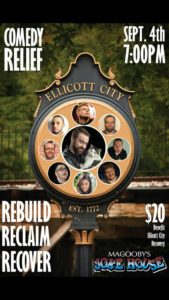 Comedy Relief for Ellicott City takes place September 4th at Magooby's!
Starring: Justin Schlegel, Erik Woodworth, Mickey Cucchiella, Rob Maher, Joe Robinson, Wendi Townsend, Tommy Sinbazo, Jason Weems, and Mike Finazzo.
Follow Erik on Twitter
Visit his Official Website