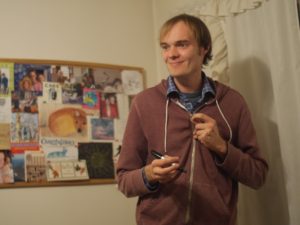 Connor is a Green Party candidate for Baltimore City Council President
(Additional reporting by Christian Bielski)
Q: Background info
I grew up in New Jersey, and moved to Baltimore seven years ago from Burlington, Vermont.  I live in a small southwest Baltimore neighborhood called Gwynn's Falls, and serve as Treasurer of the local community association.  I'm a writer, as well as a GED math instructor at Clay Pots Baltimore.
Q: Do you think there are two Baltimore's? Why or why not? If so, how would you help reconcile them?
There are definitely two Baltimore's, and the same can probably be said of many U.S. cities.  Income inequality, inadequate schooling, and racist and oppressive policies have done damage to our citizens that can't be quantified.  To reconcile this injustice we need leaders with vision and determination, equitable access to public resources and educational opportunities for our citizens, and election reform to ensure that the most important decisions are being made from the ground up.  We also need open communication, transparency, and accountability in City Hall.
Q: Were you for or against the proposed Red Line? Why or why not?
I was for the Red Line.  I'm in favor of anything that takes cars off the road.
Q: How would you help improve Baltimore's transportation system?
Baltimore's public transportation is unreliable at times.  The MTA needs to draft a schedule that reflects their available resources.  Our hit-or-miss bus system is incredibly taxing on our workforce.  It's also important that we make it safe and enjoyable for people to bike to work by adding protected bike lanes to major commuter routes and supporting Baltimore's bike-share program.
Q: How often would you like to see City agencies audited? Which department do you think is the worst offender in avoiding audits?
Audits should be conducted annually.  Joan Pratt and the Comptroller's Office have totally failed the voters and the taxpayers.  Her ability to keep her job while refusing to do it is uncanny.
Q: How would you propose to make the Charm City Circulator cost effective? Do you agree with the DOT of Baltimore eliminating the Banner and Green lines?
I'm not sure whether the Green or Banner routes were cost effective, but I think the extension of the Purple Line to Hopkins was redundant and unnecessary.
Q: What was going through your mind during the unrest of April 2015?
I was eager to see how things would change.  Then disappointed.
Q: Now that the trials of the Baltimore Six are over, and all have been acquitted, how can Baltimore heal?

Baltimore can heal by fighting for police reform.  The DOJ report condemned the BPD for widespread abuses of the public trust.  We'll begin to heal when our officials hold the police department accountable and the citizens are given more oversight and a seat on the trial board.
Q:  Do you support the Port Covington TIF? Why or why not? What did you think of BUILD's concerns about the TIF? Do you agree with Councilman Stokes measure to delay the approval of the TIF?
I don't approve of the Port Covington TIF.  We need to do more for the less-fortunate, and by that I do not mean menial jobs in Port Covington fifteen years from now.  Instead of giving huge concessions to the Sagamore, we should be using those resources to maintain the neglected parks, schools, recreation centers, and infrastructure serving the rest of the city.  Port Covington only reinforces the inequities and injustices that lead to April's uprising.
Q: Light City was a huge success for Baltimore this past year. How would you help cultivate the Arts & Entertainment districts around the city?
Baltimore's art scene seems to be thriving, with plenty of concerts, venues, galleries, open studios.  I'd definitely support the arts, but with so many serious social issues in this city, I'm going to have to prioritize.
Q: Do you support a $15 minimum wage?
I support a $15/hr minimum wage.  Citizens willing to work for forty hours a week shouldn't have to worry about paying their bills.  Income inequality in this country is outrageous, and by putting more in our workers' pockets we'll stimulate the economy, reduce the burden on social services, and ensure that the city's parents have the resources to properly care for their children.
Q: What is the biggest challenge in Baltimore?
Baltimore's biggest challenge is inertia.  Nothing changes.  The Democratic Party has squandered the decades-long opportunity it had to affect lasting social change and benefit the lives of the citizens.  With one election we can seriously change our course and transform our city for the better, but it won't happen if we keep electing establishment candidates beholden to developers.
Q: What is ONE core issue you will fight for if elected?
Accountability.  The current administration has no respect for the taxpayer.  Our water bills are totally unpredictable, property taxes outrageous, and none of this money is being accounted for or used for the benefit of the public.  The citizens deserve proper oversight and more say in how the city handles it's finances.
Q: Why should people vote for you?
I love Baltimore and plan on spending the rest of my life here.  I believe in grassroots democracy, and think that your opinion matters more than mine.  I'd be an accessible, pragmatic legislator with an open door and the peoples' best interest at heart.  I will fight for higher wages, accessible grocery stores, recreational opportunities, green spaces, police reform and election reform.
Follow Connor on Twitter