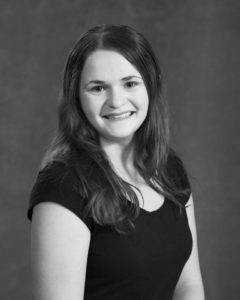 I sat down with "Romulus" cast member Kaite Vaught recently. We chatted about the show and her experience on the London stage.
Q: Where did you grow up?
A: I grew up a little bit of everywhere but I spent the majority of my life in Marysville, Kentucky – a small town about an hour outside of Cincinnati.
Q: When did you know you wanted to be an actress?
A: I was a cheetah in my 5th grade play. I got to slip on a banana peel that a hyena dropped. That was the moment when I realized I wanted to do theatre. I was fascinated by everything about the theatre from the lights to the stage building to acting. That love and fascination hit me then and it's never gone away.
Q: Which is harder — law school or the stage?
A: Oh man, this is a hard one. I wouldn't say one is necessarily harder than the other, they just present different challenges. I think having a back ground in theatre has helped me in law school, because I've done so much textual analysis of play texts. I also think that law school has broaden my view of the world that has allowed me to connect more with characters and situations that I would not have been able to necessarily connect with before.
Q: Who do you play in "Romulus?"
A: I play Rea. She is the emperor's daughter.
Q: What has your experience been like working with The Memorial Players?
A: It's been fantastic! I was a little skeptical about having a production in a church, but it's been amazing getting back in touch with the roots of theatre. Being a theatre history nerd I have spent so much time geeking out over the fact that we get to play in a space where theatre had it's origins. Everyone has been so welcoming and just so amazing. I will definitely being doing other things with this extraordinary and talented group of people.
Q: What is your favorite scene or line in the play?
A: My favorite scene is the good-bye scene between Rea and her father. There is something so moving and touching about seeing this man who has spent the majority of the play telling the world he doesn't really care and to have a moment where he lets down his façade and shows his loving side to his daughter is just amazing. The first time we really nailed the scene, I walked off the stage in actual tears. Something about strong father/daughter relationships always gets me. This scene also has my favorite speech that Romulus gives about learning to not be afraid.
Q: What is the hardest thing about acting?
A: I think the hardest thing for me is getting my lines learned and getting the character into my body. I spend a lot of time in my own head and trying to get the thoughts and ideas of a character out of my head and into my body and physicality is hard for me sometimes. And trying to remember lines so that I stay true to the playwright's carefully crafted words is something that I have always found to be a challenge for me.
Q: Why should people come out this weekend and see one of the final performances?
A: This is a play about seeing something bigger than ourselves. It's about the fall of Rome, yes, but it's also analogous to our own current state of politics, I think. The last week or so has been difficult for a lot of people and I think Romulus can provide a different perspective on things and maybe even provide a few much needed laughs.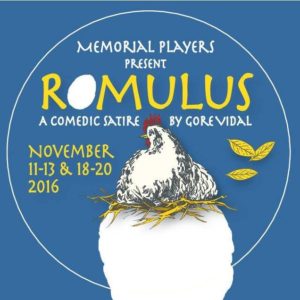 "Romulus" has it's final performances this weekend.