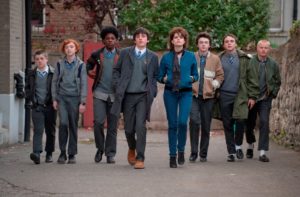 Picture it: Thanksgiving 2016.
I had seen lots of films in the theaters at this point, but nothing had really struck me. "Almost Christmas" was great, as was "Arrival."
So on Thanksgiving night, I decided to watch a little film titled "Sing Street" on Netflix. I remember wanted to see it when it came out in the cinema, but I just didn't get around it.
The film centers around Conor Lawler, who is taken out of his expensive school, and put into public school due to his families financial difficulties. Conor meets a gaggle of misfits (aka allies) and a pretty model soon thereafter. In order to impress Raphina (the model, of course), he says he needs a model for his bands music video. Problem is? He has no band!
The movie includes tons of 80's hits, and even offers a few great original tracks such as : "Drive It Like You Stole It"
The film is about brotherhood..love… and living your dreams.