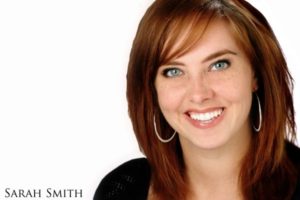 I chatted with actress Sarah Smith about her experiences on the "Mammia Mia!" tour.
Q: Where did you grow up?
The suburbs of Chicago. Then my family moved to Texas. I went to college in Abilene, Texas. I'm doing my last half of growing up in New York City currently ::laughs::
Q: When did you know you wanted to be an actress or singer?
That's an interesting question. I really, without sounding too head in the clouds, I think I always knew it deep down. I didn't figure it out until later in life. I didn't start doing theater until I was in college. I started dancing when I was four. My parents sang, my grandfather was a musician..we were a musical family.
I went through life wanting to be different thing, but I realized I wanted to play them, and not be them. Doctor, lawyer, police officer, etc. I took a year of high school. I was going to go to college for opera. I had an opportunity to audition for a theater department. I didn't get in, but the head called me and told me good news and bad news. The bad news was that I didn't know what I was doing. The good news is that they liked that. They offered me a chance to come in with the freshmen and take the acting class. It would give me a chance to work with the teachers, and then re-audition. Three months later, I got into the program officially.
Q: Who inspires you?
Oh god, who doesn't?! ::laughs:: Early on, maybe without knowing it, Jimmy Stewart. I was profoundly mesmerized by the emotions he could provoke in people. Audra McDonald, my grandfather, Judy Garland. I can remember taking an acting class in senior year, and I had to do a performance of a Shakespearean sonett. I remember getting in front of everyone, and getting emotional. I started reading more and more of his work, and fell in love with the emotional pull of it.
Q: You play Rosie in "Mammia Mia!" What is your favorite song that YOU get to sing and why?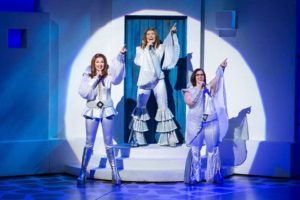 I'm very lucky to get to sing all the songs I do because I'm a huge ABBA fan. Always have been. For me, "Waterloo" at the end is one of my favorites. There's something about that song. It wasn't one of my favorites of theirs, but it's become one for sure. I love when you're on stage and the audience just sings along with us during the finale.
Q: What is your favorite scene in the play?
I LOVE the bedroom scene. It's one of the larger scenes in the play. It's where Donna and her two best friends REALLY catch up for the first time. It's one of the strongest connectors to the audience. We get to dance around, be fools and sing "Chiquita" and "Dancing Queen."
Q: Are you excited about your weekend here in Baltimore?
I'm SO looking forward to this tour stop. I'm a huge Edgar Allan Poe. Excited to visit his grave site and The Annabel Lee Tavern. I've heard great things about Baltimore and can't wait to  explore it!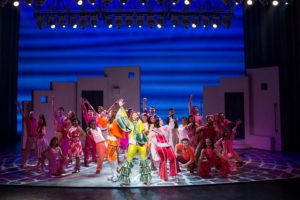 "Mamma Mia!" rocks Baltimore this weekend at the Hippodrome Buy tickets
'Like' Sarah on Facebook
Visit the Official "Mamma Mia" North American Tour Website