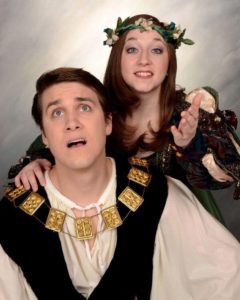 I chatted with local actor Charlie Lidard about his new play "I Hate Hamlet"
Q: Talk about your childhood, where you grew up, etc.
I grew up in Timonium. I went to St. Paul's School for Boys. I played sports and did theater through school.
Q: When did you know you wanted to be an actor?
I think it's always been a part of me honestly. Probably around 6th or 7th grade I found that I really liked going through all the processes of doing a show. Going to auditions, reading for different parts, getting to see what goes into building sets, choreography.
Q: What is the most difficult part of being an actor?
Hmm.. ::long pause:: I think it has a lot to do with trying to think the way your character thinks. Although I've been fortunate to play some roles similar to my own personality, it is sometimes hard to know what certain characters are thinking in certain situations. If you do that, you can give them depth.
Q: You're a teacher, and you do this on the side. How difficult is it to juggle both?
It's a BIG time commitment. I'm involved with other extracurricular activities at the school as well. I'm an advisor to the High School's robotics team, and this show came during the smack dab during the build season where they meet five to six nights a week. It was tough to be there for the team AND for the cast.
Q: Who is your favorite actor and why?
That's tough, man. I would say Phillip Seymour Hoffman..rest in peace! He was never afraid to play a character that was outside his comfort zone. Perhaps living, I would have to say Daniel Day Lewis. He's so engaging.
Q: What is "I Hate Hamlet" about and who do you play?
It's about an out work television actor who auditions for a role as Hamlet for a Central Park production.  I play Andrew Rally..his biggest struggle is what's more important for n actor..going for the fame of it all or is it to master your craft?
Q: Are you excited going into your final weekend of shows?
I am! I know I'm going to miss this show after our final performance. You always wish you can do it for one more weekend, or a few more weekends. I think what this allows us to do is digest what has worked, and what hasn't quite worked, and strengthen the all around production.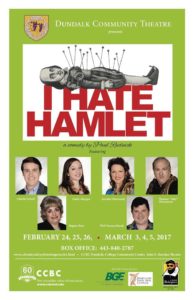 "I Hate Hamlet" has its FINAL shows this weekend at Dundalk Community Theatre.