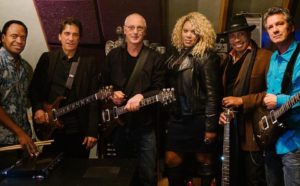 I chatted with Gary Grainger about his upbringing and his current stint with the Paul Reed Smith Band.
Q:Talk about your childhood, where you grew up, etc
I grew up in the Cherry Hill part of Baltimore. Played in all the school bands. My father brought home a bass guitar once..I picked it up and never looked back. I started off playing neighborhood bands and it expanded from there to Jazz, Funk and Rock with professional bands.
Q: When did you know you wanted to be a musician?
I guess It was very early in High School and through college . I really enjoyed the way I felt playing music and also the way it made other people feel. It was a way of connecting with everyone no matter of where they were from.
Q: Is it true you taught yourself how to play instruments?
Yes, self taught. My mother said that I would go into the basement and try to play everything that I heard on the radio at that time.
Q: How did you link up with Paul Reed Smith?
I've known about Paul a while before I meet him. He asked me at a show to demo his bass guitar. When I played it back then I mentioned to him that I would like to change a few things with that bass at that time. He said we should get together and design a signature bass. That'show the PRS Gary Grainger Bass line got started.
Q: What is your favorite song on the new album "Time To Testify" and why?
I really love the song " Breath". The emotion and sound of the song takes me to another place. Mia did a wonderful job singing it. A very strong song I think.
Q: What is your favorite venue to perform in?
That's easy. Rams Head On Stage. It's been like a second home for us. The sound is always tight and big. We're always Great people and a beautiful vibe.
Q: Are you excited about your CD Release party Thursday?
Yes! Very excited! It will be a pleasure to play these songs in that setting on Thursday night. Looking forward to a great time!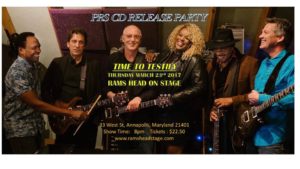 The Paul Reed Smith Band has their CD Release party Thursday at Rams Head Annapolis!
Follow PRS Band on Twitter
'Like' PRS Band on Facebook