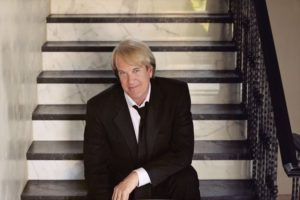 I chatted with John Tesh about his career and current tour.
Q: Talk about your childhood, where you grew up, etc
I was born and raised on Long Island. I was in a bunch of rock bands growing up.  A "Blood, Sweat, and Tears" cover band most notably. We were playing the same clubs as Billy Joel's first band, The Hassles. If he didn't want to play a weekend, we got the gig. When I went to college, my parents didn't want me to go to music school, so they sent me to a Pre-Med program at North Carolina State. But I still stayed in the practice rooms, and still was involved in the music scene.
Q: When did you know you wanted to be a musician?
I think it was probably when I was first saw the Dick Clark Five  and The Doors on "The Ed Sullivan Show." Most people point to The Beatles, but they didn't have a keyboard player and I couldn't play guitar. When The Doors played "Light My Fire", EVERY keyboard in America learned that solo.
I was a really skinny kid, played soccer and lacrosse when all the cool guys were playing football and basketball. My only way to express myself was through music. It wasn't cool back then at all unlike now.
Q: What is your favorite song of yours and why?
I would probably say "Barcelona."
I wrote it for the Barcelona Olympic Games in 1992. It's one of those really hard driving songs. That's probably the one song that has been used the most for a Figure Skating or Gymnastic competition. It has..all those different movements in it.
Q: Which is more difficult..being a television host or touring around the country?
I think it depends on where your passion is. For me, I think it takes more preparation and more performing without a net while you're on stage. Your sitting behind a grand piano, feeling the pulse of an audience. On television, it's much more structured.
Q: What do your fans mean to you?
I'm very loyal to my fans. I grew up as a fan of YES. If they come within 100 miles of where I live, I'll take a trip to see them. Or Jethro Tull, or The Boston Pops. I think knowing how to be a fan helps an artist understand that people are paying a lot of money and time to come see you.
I remember an interview with Garth Brooks back on "Entertainment Tonight" where he said he spends as much as he can with his fans after a show. I try to do the same thing for sure.
Q: Do you prefer performing solo or being surrounded by musicians?
I like ALL of it. This time around I'm bringing my bass player. He's really amazing what he can do on that thing. We're bringing a projection screen with us, so it will be like a whole MTV "Behind The Music" thing where, for example, you can see how I wrote for Howie Mandel's show "Bobby's World" back in the day. You'll really get to see my process.
Wait..you wrote for "Bobby's World?"
Yup!
That brings back sooo many memories!
RIGHT? ::laughs::
What was that experience like?
It was so much fun. I remember bumping into Howie Mandel in the recording studio. He was actually a friend of my wife. He needed someone to play an accordion on his Showtime special, so I obliged. He wanted to pay me, but I said "nah nah, we'll figure something out in the future." Later on, he needed someone to do music for his new cartoon "Bobby's World." It was challenging because I had never done anything like that before. He would call me up in the middle of the night and say "Hey! I have an idea for a song, 'Fish Don't Stink Under Water' or 'My Dad Wears Pants.'" I don't think I ever had a note when I was doing it, they trusted me, and  let me have free reign.
Q: Are you excited about your show here in Annapolis this week?
Getting a chance to  be in front of a few hundred people is great. Very intimate. We can interact with them more. For me, I'm really enjoying that more and more.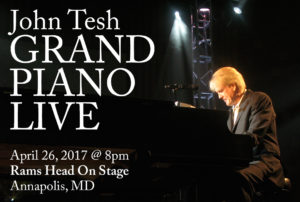 John headlines Rams Head Annapolis Wednesday!
Follow John on Twitter
'Like' John on Facebook