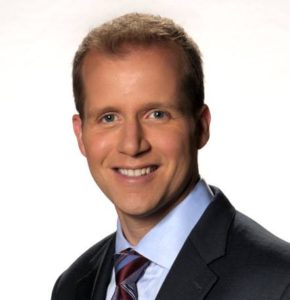 Former WMAR Chief Meteorologist left his position not too long ago. It was just announced he is staying on at ABC 2 in a different capacity. He will be the host of a new lifestyle talk show that will air this fall. Release below
FOR IMMEDIATE RELEASE
WMAR CHIEF METEOROLOGIST WYATT EVERHART ACCEPTS NEW ROLE WITH SCRIPPS ABC AFFILIATE IN BALTIMORE
JULY 7, 2017
Baltimore – After almost a decade at WMAR-TV, Chief Meteorologist Wyatt Everhart is stepping down to take on a new position at the news station. Effective immediately, Everhart is transitioning into a role as host for a new WMAR lifestyle show for the station's daytime lineup. He will spend the summer working with producers and creative teams on the program, which will launch this fall on the Baltimore station. More details on the program will be announced in coming weeks.
"As sad as we are to lose Wyatt as our chief, we are thrilled that he is staying with the station and using his superb interviewing skills in a feature capacity," said Bill Hooper, vice president and general manager at WMAR ABC2. "Through the years, Wyatt has been our 'go-to' guy for our 'On the Go' news feature segments that take us across Maryland, and we wanted to leverage that skill as a cornerstone of this exciting new venture."
"This is a great, natural progression for me," said Everhart. "While I still love the science of meteorology, I have always truly enjoyed getting outside of the station to talk to viewers and visit events across the area. This will be a new and exciting challenge that I hope viewers will share with me as we launch this fall."
Everhart, who hails from Ocean City, Maryland, started as a freelance fill-in when he joined the WMAR news department in 2008. In his new role, Everhart will be working on air and behind the scenes with the sales and production departments.
About WMAR & Scripps – WMAR-TV was the nation's 11th (and Maryland's first) television station to sign on-the-air in 1947. The station has been the site of many technological breakthroughs: first with a color film processor for television news and production, and the first zoom camera lens for film and tape cameras. WMAR is owned by the E.W. Scripps Company.
The E.W. Scripps Company (NYSE: SSP) serves audiences and businesses through a growing portfolio of television, radio and digital media brands. Scripps is one of the nation's largest independent TV station owners, with 33 television stations in 24 markets and a reach of nearly one in five U.S. households. It also owns 34 radio stations in eight markets. Scripps also runs an expanding collection of local and national digital journalism and information businesses, including multi-platform satire and humor brand Cracked, podcast industry leader Midroll Media and over-the-top video news service Newsy. Scripps also produces television shows including "THE LIST" and "The Now," runs an award-winning investigative reporting newsroom in Washington, D.C., and serves as the long-time steward of the nation's largest, most successful and longest-running educational program, the Scripps National Spelling Bee. Founded in 1878, Scripps has held for decades to the motto, "Give light and the people will find their own way."