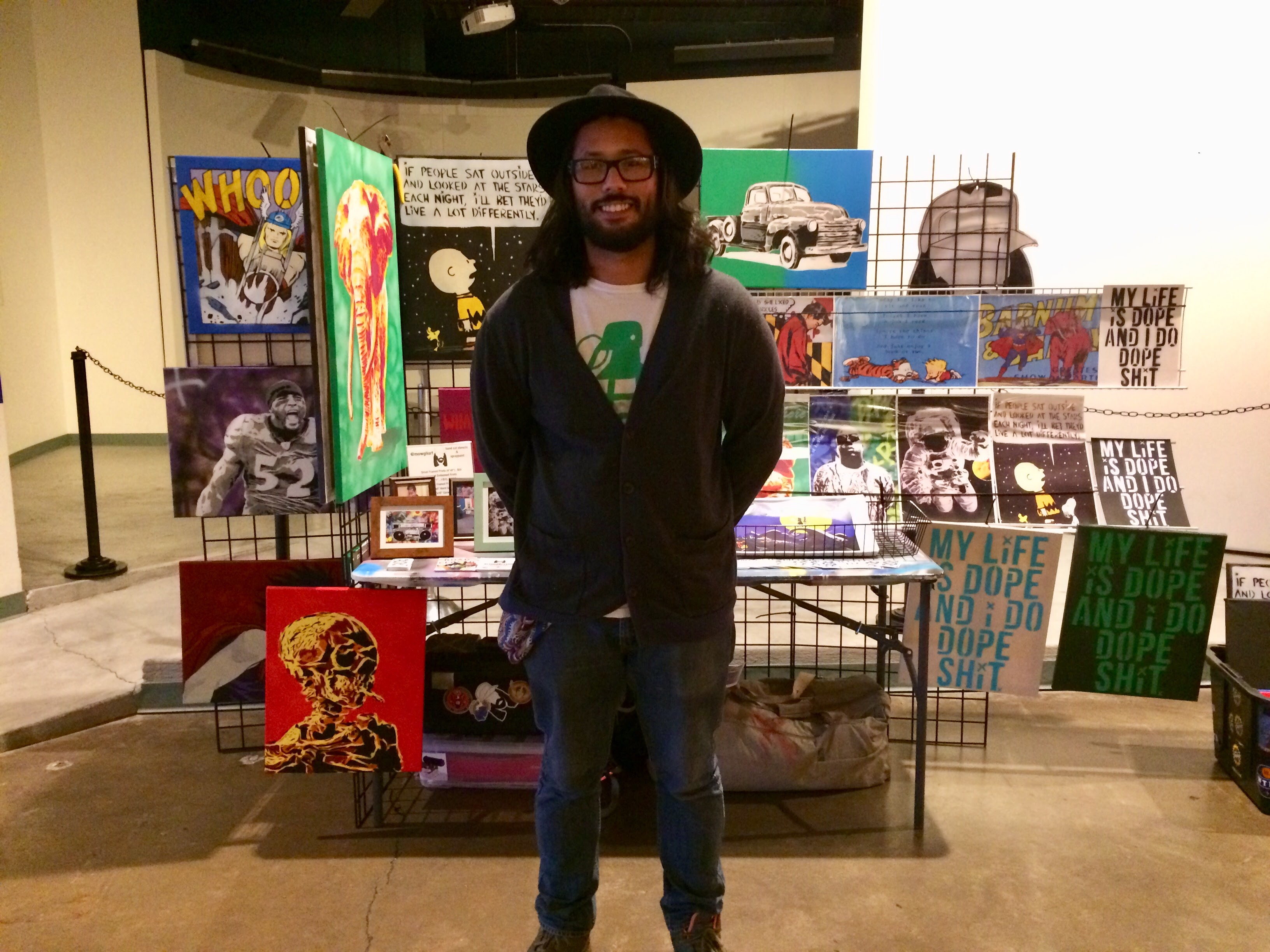 I chatted with local artist Mowgli about his career and his experiences attending the Highlandtown Art Walk
Q: Talk about your childhood, where you grew up, etc
I grew up in Parkville/Carney, MD and stayed around the area until I was 18 when I left to college in Blacksburg, VA at Virginia Tech. Originally I was planning on a Computer Science degree in the College of Engineering, but ended up in the Mining and Mineral Engineering Program for a few years. After an internship in an underground coal mine (which is a story for another day) I realized I was better suited in the world of Marketing. Before graduating in 2011, I started completing murals and stencil art pieces for friends of friends. There was some experiences in street art and my first year of seriously painting that has led me to where I am today.
Q: When did you know you wanted to be an artist?
Every day I reaffirm that I want this life, that I want to be an artist. There are two moments that stick out in my career that has been the driving force to the path I have been following. I completed a mural in Blacksburg, VA that was the entire first world of Super Mario 1-1. I always loved playing Super Mario when I was younger, so obviously, I had to use that for inspiration on my mural. I know one of my friends still plays Mario online. She uses Gamulator to find the ROMs of Mario, then she can play it whenever she wants. That sounds fun, maybe I should do that! Anyway, the mural was down an alleyway and about 75'x8′ tall. There was a moment after I finished the mural where I was walking to class behind a mother and her kid. The kid exclaimed, "Mommy, mommy that's Mario!" bouncing up and down with excitement as they continued down the alleyway. Bringing that sort of joy to a random kid with something simple like beautifying the buildings around the town brought something into my life that reaffirmed I wanted to be an artist. I wanted to paint.
The first time I felt like an official professional artist was the beginning of last year. Through a connection with friends, I was able to get a painting I did of Conor McGregor signed by McGregor himself. A gallery in Caesar's contacted me to display the painting for sale and it sold within two weeks for an absolutely exorbitant amount. I don't know why I never felt like a successful artist before then, but it was an experience that left me feeling reassured continuing this path to be an artist everyday.
Q: Who are some of your favorite artists?
More recently I've been a big fan of Lichtenstein, which has probably been heavily influencing my more recent work.
Locally my very close Las Vegas friend, Recycled Propaganda (@RecycledPropaganda) and the owner of Wonderland Gallery Kat Tatz (@kattatz) are two of my favorite artists from the Las Vegas scene.
Overall my favorite artist would have to be Luke Chueh (@lukechueh). His iconic bear character and imagery of tragedy and sadness has always resonated with me. He's also one of my favorite artists that have translated his paintings into vinyl figures.
Definitely all artists worth checking out.
With a question like that, I feel like that best answer is me (without sounding like a tool). I want to be my favorite artists and I want to be your favorite local artist.
Q: What is the most difficult part of being an artist?
I think it's the career path. Being an artist isn't a traditional career path where you keep getting promoted until you hit a glass ceiling or the Peter Principle. An artist's career or being an artist could mean anything. More recently, I've realized how much of my personal life and experiences is connected to my artwork. My art is the culmination of my friends, my family, the girl I'm dating, what my current muse is, and what inspires me. There is a constant ebb and flow to creativity and it eats away at you when you want to create and be inspired but it's not there.
I look back at my previous pieces and struggles and I can remember what I was going through when I created certain designs and certain paintings. I think it's difficult to be self aware and to constantly push forward and try and progress as an artist. If you stop painting, if you stop creating, if you stop putting your art out there; it ends.
I also think it's really hard on an individual for how much your artwork or a painting could mean to someone. As an artist you don't know where you art goes or what happens to it after it is sold or changes hands. The artwork is bigger than you and your experience with it. It's in someone's home, it's in someone's office, it changes hands if someone passes. People need artwork to comment on the conditions around them and be a voice for something that they cannot express. It's a very heavy experience as an artist when you have those special moments, but I think it reconfirms the impact you can have as an artist.
Q: This is probably a tough one, but do you have a favorite painting?
My favorite painting of mine or my favorite painting in general?
My favorite painting is definitely 'The Great Wave off Kanagawa'. I just love the iconic look of it and the amount of chaos in the waves vs the boat. It was one of my first tattoos and is still one of my favorite paintings since seeing it grade school.
My favorite painting of mine to date is my 'Circus Man' piece. It's based on a 1941 Superman comic on a gum wrapper and I loved the way the image worked with logos and imagery from Barnum & Bailey and the idea of pink elephants or drunken hallucinations.
Q: What is your favorite type of art to paint? (Like Murals, stencils, etc)
It comes and goes. My favorite type of art to do is when someone gives me creative freedom with a subject I'm into or a fan of myself. I really do enjoy my commission work when I have time to complete it. It's a catch 22 to have that trust from a person to create something a client is going to love.
Murals are definitely up there though. Putting anything on the streets is something rare and beautiful. It interacts with people who walk by, the building around it, and its something that is absolutely finite. It deteriorates over time, gets buffed out, tagged, and nothing lasts forever. Murals are something I want to do more of in my time here in Maryland.
Q:The first time i met you you were outside doing a live demonstration. Is it nerve wrecking to do those in front of people?
I still get nervous at times. It's a little nerve wrecking feeling dozens of eyes on you as you paint and create pieces. I also love showing people my process and feel in my element and in my world when I paint, so it's a very comfortable spot. I started live painting in front of crowds 5 or 6 years ago. I used to set up at the LINQ promenade in Las Vegas with a collective the ISI Group and on nights they have 300 people walk by every half an hour. After painting a few times in front of that kind of crowd, you kind of don't think about it anymore. I enjoy that end reveal when the pieces is complete and the final stencil lifts off the canvas when you get to show everyone what you've been painting the whole time.
Q: What has been your experience so far being a part of the Highlandtown Art Walk?
I've had an amazing experience with the Highlandtown Art Walk. I moved back to Baltimore, MD after 6 years in Las Vegas, NV and it has been incredible to be a part of Highlandtown and connect with the community and art scene here. I'm absolutely elated to meet the locals and interact with other artists and gallery owners. I'm excited for the traction the Highland Art Walk has received and I hope more and more people check it out as we continue First Friday's in Highlandtown.
There are so many great interactions I've had at all the different art stops and I wish that openness and friendly attitude was present at all art events and show openings.
Q: If someone reading this hasn't come to the art walk yet, why should they?
To meet their next favorite artists obviously! (kidding). It's an amazing experience to be a part of. There are multiple galleries, restaurants, bars, and local businesses to check out and I think people are constantly craving that creative night out or to see their local community come together. It has everything you want in a night out or for a fun date to take your girl/guy. There's live music, art demonstrations, show openings, beer& wine, and meet and greets with so many incredible people. There is something for absolutely EVERYONE at the First Friday Art Walk and I hope everyone in Maryland (& beyond) gets to experience First Friday's in Highlandtown at some point in their year. I know I'll be there and I'll be happy to meet them.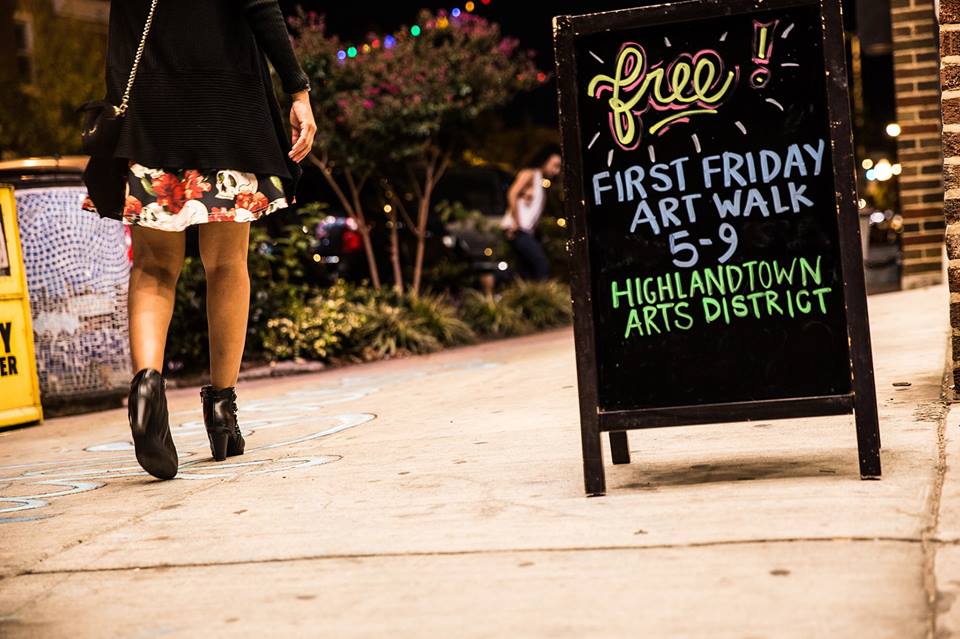 You can see Mowgli and many other artists during The Highlandtown Art Walk this Friday!
Follow Mowgli on Twitter
'Like' Mowgli on Facebook
Mowgli will be at Night Owl Gallery Friday evening. 248 South Conkling Street, Unit C.
[follow_me]