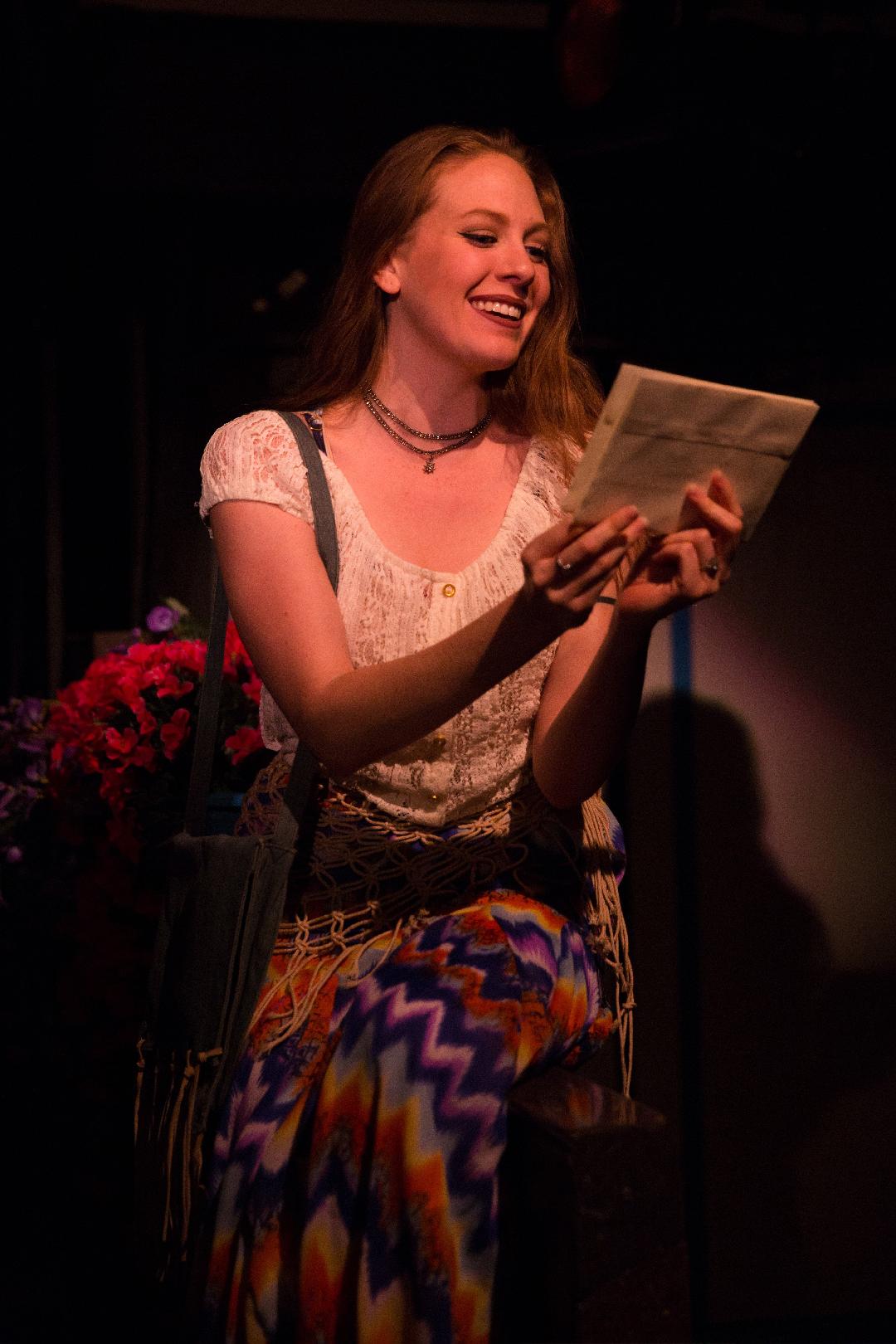 I chatted with Maggie Dransfield about her experience playing Sophie in Toby Dinner Theatre's version of "Mamma Mia!"
Talk about your childhood, where you grew up, etc
I was born and raised in Columbia Maryland. I have an older sister and two younger brothers. I've always been a outgoing person, I love talking to people and getting to know them. Everyone is important and has a story to tell. I was 5 years old when I started performing, and I have loved it ever since. I began acting when I was in 5th grade, playing the part of Lucy in You're a Good Man, Charlie Brown. My family has always supported my love for the arts, and truthfully, all of them share that same love in one way or another. My parents homeschooled all four of us kids through the entire duration of our elementary, middle and high school education. Looking back, I wouldn't have changed a thing.
When did you know you wanted to be an actress?
Early on, my dream was to be a singer, but as I began acting, I soon found a love that went much deeper than music and lyrics. When I was cast as Amneris in Aida with Columbia Center For Theatrical Arts by Toby Orenstein and Kevin McAllister, I knew that I really had a chance to pursue this career. The two of them gave me a confidence and pride in my work that I didn't even know was possible at my young age. That's a gift that Toby has.
Both of your brothers are actors as well?
Yes! Both of my brothers, Stephen and John, are actors as well. I am so proud of them and the work they are doing. It is amazing to share the same passion as those who are so near to your heart. We all got our start in the area through small theatre groups but began to shine through the opportunities Toby gave us. Stephen is going into his senior year at Shenandoah Conservatory for his BFA in Musical Theatre, and John will be attending Belmont University this fall as a freshman for his Bachelors in Music. Although my sister isn't an actor, she is an incredible photographer with her own business by the name of LA Birdie Photography. Truly incredible work. Thank you for asking about them. My family is one of my biggest passions!

For people who have been living under a rock, what is "Mamma Mia" about, and who do you play?
I have been given the opportunity to play Sophie in Mamma Mia! This musical takes you through the journey of a 21-year-old woman, Sophie Sheridan, in pursuit of her father. Her mother, Donna, is just as integral to the story if not more. After discovering her mother's diary, Sophie, unbeknownst to Mom, invites the three possible dads to her wedding by sending them each a letter signed and sealed by Donna. The men show up and, shocker, comedy and drama ensue! The goal is for Sophie to find out who her true father is so that he can walk her down the aisle and give her away. But Donna soon discovers her three ex-lovers on the island and is completely caught off guard and shaken, singing "Mamma Mia." Sophie and Donna each share time with the three men, discovering and rediscovering who they are and what they mean to them. Things get a little messy as Sophie and the three men hide the fact that Sophie is the one who invited them to the island in the first place. Through the drama, each character discovers something new about themselves, changed for the better. Fueled by the incredible music of ABBA, this show is sure to take you through an adventure of love, trust, discovery, and what it means to be your authentic self!
What is it like working with Heather Beck and the rest of the cast?
Heather and I are like long lost soul sisters. The more we get to know each other, the more we discover how similar we are. It has been an honor to work with her. Not only have a found a new friend, but I have found a new acting partner that I resonate with so deeply. From day one we have connected. She has amazing mastery of her voice, not only while singing but speaking as well. And she works from the heart. I'm all about authenticity when it comes to acting, and Heather sure has it! I'm honored to share the stage with her. As for the whole cast, I truly am blessed to work with incredible people. All three of the dads are truly wonderful men and shine in different ways while performing. I'm nothing but thankful to know and work with these artists!
What are your favorite TWO numbers in the show?
"Name of the Game" is my favorite sing to perform. It sits right in the sweet spot of my voice and lets me sing through my emotions. In this song, Sophie addresses Bill, played by Russel Sunday, another wonderful acting partner. She wants to know if he is her father – what's the name of the game here with him? Can he feel the same way? I am very close with my own father, and it strikes me to my core every time I sing this number because of our relationship. I can't imagine not knowing my father, so discovering him as an adult would be mind-blowing for me. Another favorite of mine is "Honey Honey". This song is full of exposition, but it's also so much fun to perform. The joy I get from being on stage with Jamie Pasquinelli (Ali) and Cassie Saunders (Lisa) during this scene is incredible! It's a perfect way to kick off the show!
If any, what are the challenges of the show?
Theatre in the round is extremely demanding. There are constant distractions, and as the actor you must be able to put up the fourth wall, four times. My challenge is to be constantly in the moment, listening and responding to my fellow actors. The show is also very vocally demanding. I have to be taking extreme care of myself to give the audience my very best every night! The show is so high energy, I can't afford to be off my game.
I was raised on ABBA growing up in the 90's. How fun are their songs to perform every night on stage?
The music is truly incredible! I love every song that is in the show, and I'm so impressed with the story that was created from it. What an excellent way to showcase this music! There are a few numbers where the audience is more included into the world of the play, and it's so cool to see their faces as they watch the big numbers like "Super Trouper", "Dancing Queen", and the Megamix at the end! We are with them, and they are with us!
The "Mamma Mia!" brand is really hot right now with the release of the film sequel. What did you think of the first film? Have you been able to see the second?
The movie is awesome and brings joy to so many people. It's a great spectacle and is nothing but fun to watch. I have not yet seen the second movie but have heard good things about it! I'll watch it once I'm done with this show. I don't want any new information influencing the choices I have made for Sophie. It will be a good wind down when the run is over.
What has been the audience reaction so far?
From what I hear and see, the audience loves the show and is right with us the whole time. I could not be more proud of what has evolved over the past few months with this cast and the story. People leave the theatre with joy radiating from their hearts, and joy is something that is greatly needed right now in our country. A joy that can be shared together with others regardless of race, religion, or sexual orientation. And because of that, I believe it is a success!
Are you excited about the rest of the shows run?
I discover more and more every time I perform, so I am very excited for the rest of the run. I am going to sorely miss new friends and the magic that is Mamma Mia! at Toby's. Thank you to everyone that has made this production possible. It is truly a gift!
Hurry ! "Mamma Mia" ends at Toby's Dinner Theatre on September 9th!