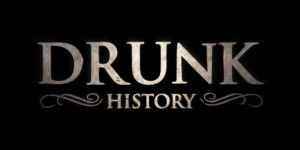 Drunk History" originated as a series of shorts for FunnyOrDie.com. Soon it was a weekly show on Comedy Central, garnering a little over a million viewers a week. Fast forward to a Season 2 renewal. Creator, and Baltimore native, Derek Waters brought the show to Charm City. Most of the scenes filmed in Baltimore took place at Mother's Grille and at the Inner Harbor.
The first segment is narrated by "Criminal Minds" alumn, and hottie, Paget Brewster. Who knew she was THIS funny? Anyway, the segment chronicled a secret plot to kill Abraham Lincoln in Baltimore. His security detail consists of Allan Pinkerton (Charlie Day), Harry Davies (Preston Flagg), and the first female detective in U.S. history, Kate Warne (Adrianne Palicki). To disguise Lincoln, they took off his "Pop-tart hart, or whatever that was", and gave him a beanie. Yes.  A beanie. The 16th President Of The United States was saved (for the time being) by a freaking beanie. I'll admit, I literally LOL'ed.
The next segment featuring a for once not annoying Jeffrey Ross as Francis Scott Key. The bit plays out pretty much historically accurate on the writing of the "Star Spangled Banner." Well, except for the part where the tune of the soon to be National Anthem was set to a  British drinking tune. So, in the end, it was an improvement.
The last segment was about, of course, Edgar Allan Poe. Who else? Jesse Plemons plays the infamous poet, and Jason Ritter plays his arch nemesis Rufus Griswold. Probably somehow related to Clark. Anyway, Griswold offered Poe $100 to publish three of his poems. Poe took the money and wrote a scathing review, and talked trash on his national book tour. He returns to discover Griswold has taken his job. This was the beginning of the end for Poe; his wife died soon after. He was then found dead on the cobblestone streets of Baltimore. Griswold, the asshole, decides to write an insulting biography of Poe trying to destroy his image. Welp. That didn't really work. As the show put it: ""Everyone in America read this, and they were like, 'Wait, what? Drunk, crazy guy who wrote about ravens? Where can I get this book? That sounds awesome.' As we all know, Poe has become one of the best literary figures in history. So I guess Ravens fans should thank Griswold? 😉

Derek Waters described Baltimore simply: "Baltimore is a shoe. It's scuffed and worn in, but it doesn't need polishing, because all of those marks have stories to tell."
Agreed.