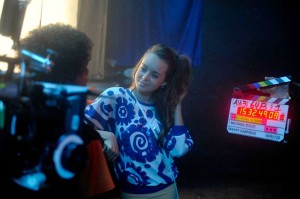 I sat down with local actress, Maddie Howard, who is making a name for herself in projects such as "Ping Pong Summer" and "VEEP."
Q: Where did you grow up?
A: My parents lived in Crofton, MD when I was born, but we've lived in Severna Park, MD for the last 10 years and I attend Severna Park Senior High. I'm a Junior.
Q: Why did you want to become an actor?
A: I have always had an interest in playing pretend/acting. I did musical theatre throughout elementary school, but found my true passion for TV and film at the age of 12. Since then, I have been fortunate enough to have my acting career take-off. I love being on set, acting, and promoting my projects. It's all fun for me and I'm truly grateful!
Q: What was your first gig?
A: My first paid gig was a political commercial in VA. We weren't told any information prior to being on set. My mom ended up in it too. Her one and only acting job.
Q: What has been your favorite job so far?
A: I had a great time filming Ping Pong Summer with other kids my age, but the absolute best part of working on the movie was when we got to go to Sundance to promote the film. Going to the premiere, walking the red carpet, meeting celebrities and seeing other independent films was a dream come true for me!
Q: How was your experience on Veep?
A: Awesome! I got my very first trailer and everyone was so nice to work with – especially Julia Louis-Dreyfus. She is ridiculously talented! Plus, they have really great food. I live for a smoothie bar.
Q: What was your favorite scene from "Ping Pong Summer?" Favorite memory?
A: My favorite scene was when the Miracle's visit the aunt and uncle. I think Amy Sedaris and Robert Longstreet are hysterical! My favorite memory was dancing in the foam at H2O. There was music and foam. What's not to love?
Q: Is there a director you admire and would like to work with?
A: Yes, I would love to work with Wes Anderson.  I am a HUGE fan of his work especially Moonrise Kingdom. He is so creative with the types of shots he uses and all of his movies are beautifully colored. 
Q: What is your advice to aspiring actors?
A: Audition for everything even if you don't think your right for it. I find projects I think I'm not a good fit for are the ones I tend to book. Auditioning is just another chance to perform and do what you love!