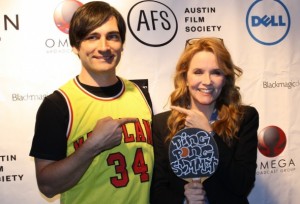 I sat down with "Ping Pong Summer" Director, Michael Tully.  He dished on the film and his passion for film making.
Q: Where were you born?
A: I was born in a little city called Washington, DC.  My family lived in Bowie, Maryland at the time, so PG County. We lived there until I was 8, when we  moved to Mt. Airy in 1982.
Q: Who were your inspirations growing up?
A: I would have to say Len Bias, the basketball player. My dad was a big hero, but Len Bias was my sort of God. I lost a friend recently, but besides that, when Len passed away that was one of the biggest losses in my life.
Q: Do you have any artistic inspirations? Or any inspirations now?
Yeah, it shifts a lot. Which is great, that's the joy of loving movies. Richard Yates, the fiction writer, has been a real inspiration the past few years. I love the cleanliness of his writing; he sort of captured both brutally depressing and hilarious at the same time. I went through a John Steinbeck phase years ago as well.
Film making, David Lynch is a big inspiration. Robert Hoffman, Frederick Wiseman. Those guys like Lynch, Hoffman, and Wiseman helped me navigate through different types of films, and even music.  Claire Denis is one of my favorite modern film makers now.
Q: How did you come up with the concept for "Ping Pong Summer?"
A:  I came up with the concept when I was a senior in high school in 1992.  It was when I was kind of waking up to art films and independent cinema, whereas when I was an adolescent I was going to the local cineplex. I had nothing. Roger Ebert's book was my gateway. At the time there were films like "Pinball Summer" and "Corvette Summer", "The Karate Kid"; and I wanted to combine all these films that I loved in the 80's with my love for playing ping pong and my love for Hip Hop. Hip Hop never really bled into those 80's movies.
For years, the story was that Rad was a lonely kid who went to visit his aunt and uncle in Ocean City. I thought it would be sweet to build on that and make it a love letter to my upbringing like playing gold, going to the beach with my parents. If I had made this movie when I got out of college, it may not have been the family vacation film it is.
Q: Do you have any favorite memories from behind the scenes?
A: You know it's funny, the DVD is coming out and we didn't really put together a blooper reel. We had Susan Sarandon for five days; she was leaving so we had to get this shot, when Rad misses the kiss and she talks to him for the first time at night. It was raining that day, 85 or 90 degrees on this Sunday, and we weren't going to get Susan back, so out of pure desperation I went out and did a sun dance/rain dance. I told Susan "You've made a lot of movies, but I'm gonna make it not rain!" She said "OK dude, whatever." But I did a rain dance and ten minutes before it stopped raining. And then some of the crew started taking pictures and video of the director losing his mind, out of panic. This dance actually made the DVD, in the "making of" featurette. It chronicles the fun times we had, the spirit of Ocean City.
We filmed in September and October, we had mostly great weather. A young crew. The city was very supportive and helpful. It was like a fantasy. Waking up every morning and drive to set..it was like a dream.
Q: What is your favorite scene in the movie?
A: I think everyone can agree, the one minute dolly buffet scene composed to hip hop music. When we first saw that, we thought "maybe we should put that out as a minute long short film."
I liked so many parts; the part I find funny is when Lyle bullies Rad, and pours the milk on him. And he says "We were at the Fun Hub, and a little birdie told me you were eating crabs with Stacy!" That sentence is the weirdest sentence ever, and the funniest to me. It's a credit to Joe McCaughtry, because you feel bad for Rad, but at the same time it's hilarious.
Q: How did the veteran actors get along with the newbies?
A:  They were great. That's a worry you have as a director. I've never directed an Oscar winning actress, or directed someone from "Back To The Future." It's not something you can ask an actor when you meet them, like "are you insane?" "are you really mean on set?" So you just have to have faith. Everyone from Susan to John to Lea; I just got a sense that they were professionals, but kind hearted people. I never did real talking to them like "would you please be nice to the kids?" They came in and were very nice, and respectful. The way I direct is hiring people smarter than you to come up with lines. John would say "let's go back to the script" but I would say "throw the script away, you'll come up with funnier lines."
Helene Seabrook, who played Michelle had never acted before. I overheard her during the put put scene "A friend of mine used to say I'm too cool for fun." I turned to her and asked "what did you just say? please put that in the scene!" The older actors respected everyone coming up with lines, and we all put each other on the same page, and it all worked out.
Q: What was your reaction when Susan Sarandon signed on?
A: A friend of mine directed her in "Jeffrey Who Lives At Home", and that's how I got connected to her. He went out on a limb and hooked us up. She had watched my previous film "Septien." We were trying to make a cult movie with that one. Weirdly, "Ping Pong Summer" feels like one as well. Apparently, Susan Sarandon has the same kind of dark sense of humor I have. So she committed to it. It was really huge for my future and confidence. We're all insecure and we need all these outside sources to sort of come together, that was the first main step, and her committing made the project real. If she hadn't, I don't think it would have been.
If you were to tell me 10 years ago all this would be happening, I wouldn't have believed it.  We have a vinyl coming out of the soundtrack that I've been dreaming up for years.
Q: How did you clear those classic hits, including "Broken Wings" and "Popcorn Love?"
A: That's the hardest part of being an independent film maker. Usually you have to create fake songs, and then the movie subconsciously doesn't feel like a real movie. We worked with a great music supervisor Jonathan McHugh, that had these relationships for decades. For example, we had "Cool It Now" in there instead of "Popcorn Love" and we couldn't clear "Cool It Now." I think it's New Edition's biggest song, so they were charging $20,000 and we had to clear everything for $5,000. We wanted a kid pop song in there, so they said "MAYBE Popcorn Love." So Jonathan with his connections was able to get 2 Mantronics songs plus "Popcorn Love" for the rate. He did all this bobbing and weaving that I wouldn't even know how to do. You realize that title is pretty important in this business.
For me, the scene in H2O with "Popcorn Love" where he's trying to be grownup, ordering a suicide drink, and then him dancing to a sing about kids being in love, was just perfect.
Q: The night you did the Q&A at The Charles in Baltimore, were you shocked at how many people had shown up?
A: Yeah, that was the first one. The night before I had done one at the AFI Silver Spring, and that was filled up with more friends, family and familiar faces. Walking into The Charles that night after the Orioles game, and seeing all those people was really great. We extended for a second week there, which was huge but just the way the world works we couldn't get a foot hold and stay longer. We did three weeks in Ocean City which was really cool.
Q: Would you ever consider filming more of your films here in Maryland?
A: I would LOVE to. The beauty about Maryland is that you have the mountains, the oceans, cities, hills..you could make any movie you wanted here if you wanted. I have a drama film I would love to shoot in the Point Of Rocks area. I've been writing it for a long time, and it's nagging at me and won't go away.
Hopefully, the government ups the film tax credits so it can be more feasible. We were lucky with "Ping Pong Summer." The Ocean City tourism board committed some money to the project. Something screwed up with the accounting for "House Of Cards", and we ended up getting a little sliver of funding from the state as well.
Q: Do you have any upcoming projects?
A: I'm going to literally go in a few minutes back to the final draft of another film I'm writing. I'm not big on repeating myself film wise. This is more of a horror movie. I loved horror movies growing up. I feel now they're all about torture porn and annoying. So what I'm trying to do is challenge myself to make a movie that's more a psycho thriller..an homage to the 70's thrillers. If I can get my butt together and write this thing, I hope to film it in the fall and winter.
"Ping Pong Summer" is available NOW on DVD and Blu-Ray!