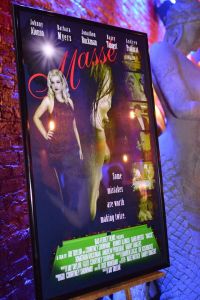 INDEPENDENT
 FEATURE MASSE PREMIERES AT CHARLES THEATRE
Bad Ferret Films announces the premiere of their indie feature 
Massé, Wednesday October 15
The film is a highly stylized piece of contemporary noir that follows Jack Papas, a pool hustler with a shady past.  The production team worked closely with the local chapter of the American Poolplayers Association to choreograph live action pool shooting.
"We are excited to be premiering in Baltimore, where so much of our principal cast is from," said Jay Taylor, Director of 
Massé
. "We were lucky to enjoy an incredible amount of support in Central PA while filming, and are thrilled to be bringing the film to an audience in Baltimore before it screens anywhere else," adds Executive Producer Courtney Shumway.
An Afterparty will be held at the Depot Nightclub from 9:00pm – 12:00am immediately following the screening, with music provided by Baltimore DJ Sean J.  
Tickets to both the Premiere and the Afterparty are available online on the 
Massé website (
http://www.massefilm.com/screenings.html
)
.
Admission is free for members of the press.  Cast and crew will be present for red carpet photographs in advance of the screening, and to answer questions.  Interviews with principal cast and members of the production team prior to the screening may also be arranged in advance.  An online screener is available to critics and bloggers who wish to review the film prior to the public premiere.  Contact 
info@badferret.com
 to reserve a press pass, request access to the online screener, or schedule an interview.  Additional photos and videos available upon request.
Bad Ferret Films is an independent production company based out of York, PA.  The company is a partnership between Writer/Director Jay Taylor and Executive Producer Courtney Shumway, and is dedicated to 
excellence in film production and cinematography.