Happy Halloween everyone!
Halloween is one of my favorite times of the year – mainly thanks to some of the amazing horror films out there. There are tons and tons out there for all to enjoy, it is a pity they aren't all on one streaming platform, luckily a Piratebay proxy can be used to help you download the horror films you can't wait to watch.
One of my friends has just upgraded his living room into a state-of-the-art home cinema.
He had been planning on some renovations for a while so when he found customcontrols.co.uk he was delighted as the design of their crestron systems is world class.
I can't wait to watch some of my favourite horror flicks with him next time I visit!
For now though, here's my Top Ten horror films of all time.
Read..if you dare!
10: "Poltergeist"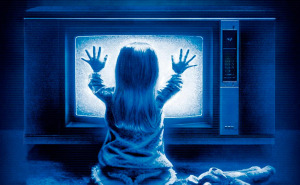 Starring: Craig T. Nelson, JoBeth Williams, Heather O'Rourke, and Zelda Rubenstein.
This ghoulish classic follows the Freeling family, and their fight against a mysterious force. I would consider this to be one of the first horror films to show a child. Heh, is that mean? I don't care. It might get them to turn off the TV.
They're here!
9. "Scream"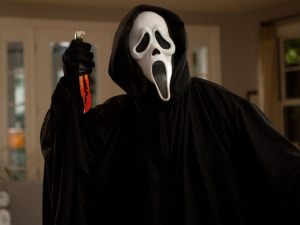 Starring: Neve Campbell, David Arquette, Courtney Cox, Drew Barrymore, Rose McGowan, Jamie Kennedy, Skeet Ulrich, Matthew Lillard
In my opinion, "Scream" redefined the horror genre in the 1990's. The film had a new premise, making fun of previous horror films. "The Rules" scene is one of the best in horror history..because it's true. The film delivered some laughs, but ultimately served up some great scares. The marketing brilliance of having Drew Barrymore promote the film as if she's the star, and be killed off in the first 20 minutes, really sets up the "Holy crap anything can happen" vibe. Wes Craven's first entry on my list.
8. "The Haunting"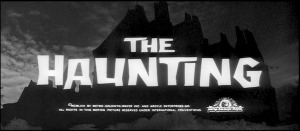 Starring: Julie Harris, Claire Bloom, Russ Tamblyn, Richard Johnson.
The film follows a group of people invited to stay overnight at a haunted house. It's not "Scary" by jump factor, it's scary watching Julie Harris' character going absolutely insane.
7. "The Omen"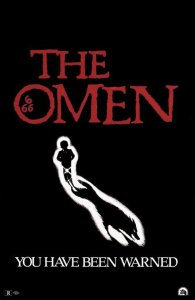 Starring: Gregory Peck and Lee Remick
This film chronicles an American diplomat stationed in Rome, who loses his first child via miscarriage. He and his wife are then given a chance to adopt an orphan, named Damien. Strange and murderous things start happening, and they learn their son is the Antichrist. Pretty freaky film. If your name is Damien, and I don't speak to you..now you know why.
6. "A Nightmare On Elm Street"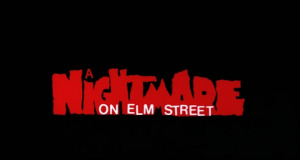 Starring: Robert Englund, Heather Langemkamp, Amanda Wyss, Johnny Depp.
Freddy Krueger is creepy. I get it. The part that freaks me out, is that in a dream world, everything is supposed to be OK. Well, not in this dream world. Some of the sequels are decent but PLEASE STAY AWAY from the remake.
5. "The Night Of The Living Dead"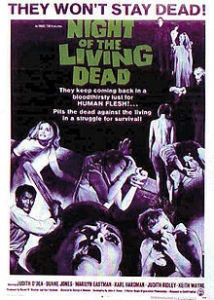 Starring: Duane Jones and Judith O'Dea
Romero's classic about strangers sheltered together during a zombie invasion. Being in black and white, the film terrifies me even more. Eat your heart out, Rick Grimes.
4. "The Shining"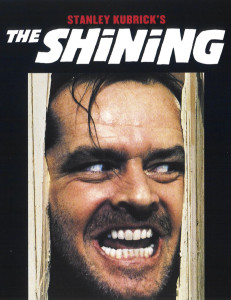 Starring: Jack Nicholson and Shelley Duvall
In one of his most iconic roles, Jack Nicholson delivers as writer-gone-mad, Jack Torrance. He moves into a snowed in hotel with his wife and son, who has psychic abilities. This is possibly one of the best films of all time in my book. REDRUM.
3. "Psycho"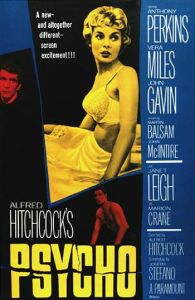 Starring: Anthony Perkins, Vera Miles, John Gavin, Janet Leigh
Probably..the most important horror film. Ever. "Psycho" was noted as starting the "slasher genre" as we know it today. Hitchcock crafted one of the most iconic scenes ever..the shower scene. You know you check the bathroom while you're in the shower making sure no ones in there. A masterpiece.
2. "Halloween"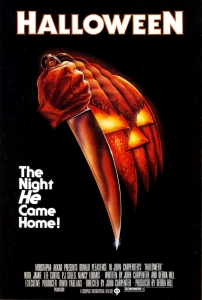 Starring: Donald Pleasence, Jamie Lee Curtis, Charles Cyphers, Nancy Loomis, PJ Soles
The tone of "Halloween" is what makes it my favorite film of all time. Not the scariest, however. "Halloween" isn't gory, and it shouldn't have to be. The tense music, and brilliant scares is what sets the film apart from any other slasher film. Donald Pleasence is brilliant as Dr. Loomis. Jamie Lee Curtis was the perfect actress to play Laurie Strode. Quiet, naive, and subtle. Since 1978..the holiday of Halloween has NEVER been the same.
1. "The Exorcist"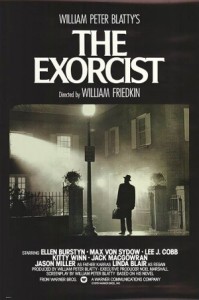 Starring: Ellen Burstyn, Max von Sydow, Jason Miller, Linda Blair
OK. This film absolutely terrifies me. It probably has something to do with the whole demonic possession thing. Yup. That's it. And the fact that it happened in Prince George's County in the 1940's? Son of a. I wasn't allowed to watch the film until I was 16 years old. I didn't sleep for three days. The eerie use of "Tubular Bells" and that damn demonic face popping up everywhere sealed the deal.
[follow_me]