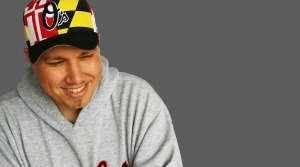 I interviewed Glenn Clark about his new radio, and of course, Baltimore sports.


Q: Why did you want to become a sports radio host?
I stumbled into it, honestly. I wanted to be a writer-but I was working in Sports Information at Maryland when CBS Radio Baltimore picked up their radio rights. They wanted a radio reporter, I was a young guy looking to do something cool and it just sort of ended up working out. I've never looked back.
Q: How did this new radio show come to fruition?
When the former radio station imploded (firing all of us in the process), I took a lot of part time jobs to fill the void. My former General Manager (Paul Kopelke) and Station Manager (Ashley Bishoff) really pushed me to get back on the horse. There were some other options, but those options weren't going to allow me to do MY show. I really enjoyed what the show had become and after one conversation with John Coulson at PressBox it was clear they were going to welcome the show the way I wanted to do it.

Q: What teams/sports will you be covering?
Obviously the Ravens, Orioles and Terps-but local colleges much more than nearly anyone in town. I'm one of the few radio guys who could regularly be found at UMBC, Towson, Loyola, Johns Hopkins, Morgan State and Coppin State during the course of the year.
Q: Will shows be available for streaming after they air?
Yes-right at GlennClarkRadio.com. But the show I do will be for the 10am-noon crowd. The danger in replaying sports shows is that news can change during the day.

Q: What is your favorite Baltimore sports memory thus far?
Mine are off the beaten path. Anyone can tell you about the significance of the Ravens' Super Bowls or the Orioles returning to the playoffs. My two absolute favorite Baltimore sports nights both came at Hill Field House on the campus of Morgan State.
The first was Senior Night for former MSU star Reggie Holmes in 2010. Morgan was playing Coppin (always an incredible atmosphere), but the place was packed and the game started some 40 minutes late because of the pregame festivities. It was the type of special Baltimore night I wish everyone could have experienced.
The other was during the NBA lockout in 2011. LeBron James, Kevin Durant, Carmelo Anthony, Chris Paul and other NBA stars played in front of a significantly larger than capacity crowd for a summer league game. I actually had to have Morgan coach Todd Bozeman sneak me into the gym because security attempted to turn me away multiple times.
James and Durant in particular were spectacular-in a game played on the campus at Morgan State. Less than 12 months later they'd square off in the NBA Finals. Truly surreal.
Q: Least favorite?
Any of the nights you'd show up to Oriole Park at Camden Yards and have your choice of which section you and your friends would want to sit in by yourselves. Those years were dark. I'm quite grateful they're over.
Q: Favorite celebrity/sports figure you've interviewed?
Stan Lee wrapped a chat by saying "you're a hell of a good interviewer". Stan Lee. I could have retired.
Q: What do you hope to accomplish with the new show?
I simply want to continue to bring a pragmatic approach to sports fandom. No one is "breaking new ground" or doing anything in sports coverage that will "re-write the rules" or any of the other nonsense you hear. I just like being able to treat sports as sports, not as life and death. I hope that's what people take from the show.