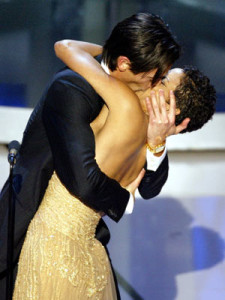 In preparation for the Oscars this weekend, I compiled a list of the Top 5 Oscar speeches of all time!
5. Sandra Bullock, Best Actress for "The Blind Side"
Sandra Bullock's win for "The Blind Side" solidified her superstar status. She gave a heartfelt and witty speech, thanking her family, her lying cheating bastard of a husband, and of course..her lover Meryl Streep.
4. Cuba Gooding Jr, Best Supporting Actor "Jerry Maguire"
Show. Me. The. MONEY! Cuba won his Oscar and gives the ultimate "I-don't-care-if-the-music-is-playing-I'm-going-to-finish" moment in awards history.
3. Roberto Benigni, Best Actor "Life Is Beautiful"
Robert won earlier in the evening for Best Foreign Language Film, and literally walked on the back of other peoples chairs. Here, he is speechless. Sort of.
2. Tom Hanks, Best Actor "Philadelphia"
Hanks delivers a powerful speech after winning his first Oscar for his..incredible performance in "Philadelphia."
1. Adrien Brody, Best Actor "The Pianist"
Adrien Brody came out of nowhere to win the Oscar that year for his performance in "The Pianist." His speech was memorable for a few reasons. He was genuinely shocked he won, he channeled every man and kissedHalle Berry, and made women wish they had an Oscar gift bag. I'll be your Oscar gift bag, ladies!