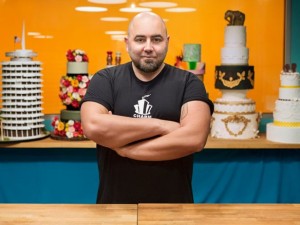 Q: I've heard that Duff is actually a nickname. How did that nickname stick?
My brother is 22 months older than me. I was born around the time he was starting to talk, and he couldn't say Jeffrey. He kept saying DUFFY. My parents finally just said 'Call him whatever you want!' And it stuck. When I entered Kindergarten, and they would call the role, I wouldn't respond to "Jeffrey" because I was so used to my nickname !
Q: When did you know you wanted to become a professional chef?
I've been cooking since I was 14.. At this point of my life, I was in New England. Once the time came, I applied for college at University of Maryland, Baltimore County. My older brother came up to drive me down to school. He came into the restaurant and wanted a steak sandwich. I put the steak on the grill, chopped it up with spatulas. He was back in the kitchen with me. I realized my hands were completely doing their own things without thought while I was talking to my brother. Then I realized "wow im good at this..Why am I not going to culinary school??!" That was the Eureka moment! My parents told me to stay in college, and to go to culinary school after. After that I worked for Cindy Wolf. That was my first fine dining job. Cindy was the best mentor in the world. She taught me so much. She hired me as a baker. She steered me in the right direction.
Q: What is the one cake that you've made that stands out?
There are so many! We made a life sized R2D2 for George Lucas at Skywalker ranch. We were there for a week. The grounds are beautiful. Land itself is in a trust, so it can't be re-developed. Beautiful facility. We were there during the playoffs. The Ravens were playing New England. We're all HUGE Ravens fans. We asked the guy who was in charge of us "Hey can we watch the football game.?" He's like "sure." Sunday rolls around and he says "Hey, we actually couldn't figure out how to get a TV in here to work." I replied "You guys made Star Wars, and you can't figure out how to hook up a TV?!" So brings us into Lucas' personal theater. We sat in Lucas' personal movie theater and watched the playoff game. It was incredible!
Q: You made the cakes that appeared in the "Birthday" video by Katy Perry. How many cakes did you have to make?
I think it was 65 or 70 cakes…there were a lot! We decorated all the funny words on the cakes too. It's really cool to watch that video now!
Q: You have two shows airing right now on Food Network, "Kids Baking Championship" being one of them. Were you reluctant going in working with kids?
Not at all. When "Ace Of Cakes" first came out, we thought about an adult oriented show..acting like idiots, baking cakes. We didn't anticipate kids were going to love the show. It increasingly became evident that my target demo is 11, 12, 13 year olds. They're very enthusiastic just like myself. I'm basically among my peers.
Q: Is it hard eliminating someone each week?
It is a knife to the chest. It's so hard. These kids are giving it their all and loving what they're doing. They're having so much fun. It's such a bummer when you have to pick somebody that did the best, and someone who did the worst. But that's the nature of competition.
Q: You judge the competition with Valerie Bertinelli. You two have had some interesting back and forth tweets, especially about certain football games. What is it like sharing the experience with her?
It's great. We've known each other for a while. We met in 2010. I had made the cake for one of the "Harry Potter" movie premieres and I was talking to some people. I felt someone literally jump on my back, and it was her. She screamed "I LOVE YOUR SHOW!" Very funny moment. We've been friends ever since. Our on screen energy is very natural..especially when we talk about football!
Q: The other show you have airing now is "Duff Till Dawn." Have you been impressed with any of the contestants' cake decorating abilities?
Those guys are great. Very poised. This show is tought. We go in there from dusk until the sun comes up. Cake decorators are used to that, but it's still a grueling competition. They've made things that just astound me.
Q: Are people surprised by some of the methods you use in your kitchen, such as using blow torches, saws, etc.
People who aren't pastry chefs are totally surprised. Every pastry chef has a blow torch in their kitchen. I've been told "You're crazy!"
Q: We've seen you on "The Talk" preparing your favorite meals..but what is Duff's ULTIMATE Ravens game day dish or ritual?
Ritual: I tend to watch them at home by myself. I really need to pay attention and I really get into it. I hate bars..the distractions are annoying. There's a really great sushi delivery place near my house. I usually get about $60 worth of sushi. Raw fish and Ravens!
Q: Do you have any other projects coming up?
I have a book coming out this October called "Duff Bakes." It's a cook book of professional recipes that are broken down for non-chefs. I wrote it for people who love to cook, and to make it less scary for them. Baking isn't alchemy..I'm on a show where 11 years are doing it!
"Kids Baking Championship" airs Mondays at 8pm, and "Duff Til Dawn" airs Thursdays at 10pm on Food Network!