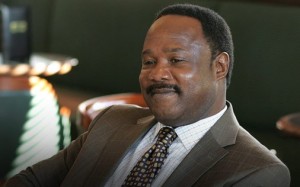 I chatted with Isiah Whitlock Jr. yesterday. We talked about "The Wire", "VEEP", and his bobblehead.
Q: How did your catchphrase come about?
It was during the Spike Lee film I was in called "25th Hour." When I started working on "The Wire, I started slipping it in my dialogue. The writers eventually started writing it in.
Q: What was your favorite part of being a part of "The Wire?"
I always looked forward coming to work. The show was so good. They ran a tight ship. Fantastic writing. I had a rare moment of truly enjoying what I was doing.   They gave me a lot of freedom to create a character. Flex my muscles so to speak.
Q: Do you have any favorite memories from set?
That's a tough one.  It's kind of a lame answer, but just being around and working with all of cast and crew was great.
Q: What was it like working with Julia Louis Dreyfus and the cast of "VEEP?"
Great. They're REALLY good. ::laughs:: They've got such a great cast anchored by Julia. They work at such a tempo and speed, that you have to stay with them. A very quick witted cast. They know what they're doing.
Q: How did Baltimore treat you while you were here filming?
Very well. I made a lot of friends in Baltimore. It was sad when "The Wire" ended though. Good thing is when I started working on "VEEP", I was able to come back and connect with  a lot of them again. Sort of like coming home. I have a soft spot for Baltimore for sure.
Q: Do fans quote your famous line to you randomly?

It can be up to ten times a day. I don't think it's ever going to go away. It took a little while to get used to it. But I'm Immune to it now, it doesn't freak me out anymore. It makes everybody happy.

Q: How did this Kickstarter campaign start?
I was at a party in Baltimore, and someone had a bobblehead of Ray Lewis. I thought 'Boy wouldn't it be funny if had a bobblehead that said sheeeit?" I looked into it, and decided to do it. This has been on my mind since July 2014. In the beginning it was smaller, but it's grown. At first the bobblehead didn't talk. I kept thinking that something was miss. It HAD to talk. So, we were able to figure out a way for it to talk. ::laughs::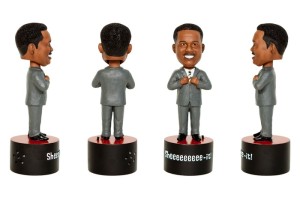 Q: What has been the response so far?
Its been really good.. People want it. I think it's going to be a real hit. I've been enjoying seeing everyone's reactions. People all around the world are enjoying it. . It makes me very happy. I didn't expect us to 344% over our initial goal. It goes to show that people want it. It will be something you can sit on your desk , although that might be a little creepy. Say if you burn yourself in the kitchen, you could just press the button instead of saying 'SHEEEEEEEEEEIT yourself.
Q: I think it's awesome that you've essentially finessed the word 'shit.'
::laughs:: Exactly! With flavor!
Q: If you had to guess, what would Clay Davis have done after the series ended?
Right now? Probably having breakfast with someone. Trying to get some money or a donation. He would be discussing a PAC he was setting up to get some money. If that didn't work, he would get a free meal out of it. If he wasn't feeling it, he would say he was going outside to smoke,  and get a taxi home.
You can buy your very own "SHEEEEEEIT" bobblehead HERE