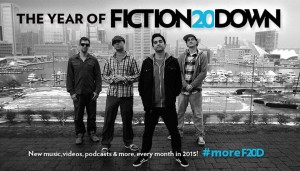 I talked to Wes Anderson from the local band, Fiction 20 Down
Q: How did Fiction 20 Down form?
Jordan, our singer, used to be a studio engineer.  He started the band. Deej joined, then Dre. I joined about three years ago.
Q: Do you guys have any influences?
Absolutely. We all kind of have all influences personally, ranging from Hip Hop to Reggae to Rock, Alternative. Thinks like that. I'm a metal head; Jordan is more singer-songwriter, Deej is Reggae, Andrew is Hip Hop. Together I think that's what shaped our sound, having a wide variety of different musical backgrounds and influences.
Q:Who came up with the band name?
That would be Jordan. We get asked a lot "what the hell does Fiction 20 Down mean?" The short answer is it means your fears could be fiction 20 years down the road. Sort of like a mantra of going after your dreams, regardless of circumstances.
Q: What would you say Fiction 20 Down's musical style is?
It's tough to label, because we wear a lot of hats musically. What I tell people is it's a fusion of Alternative/Reggae/Hip Hop.
Q: What is your favorite song to perform?
It changes. Right now, I'd probably say it's our single we're putting out next week called "Suburban Gangster." That's the most fun for me to play right now. It's catchy, it has a reggae vibe. It has a little bit more of a rock element too which is great. It shows off a lot of our capabilities.
Q: You were nominated for five Maryland Music Awards, and you won one. How did that feel?
Great. (laughs) When things like that happen, I always keep my expectations in check. To receive recognition like that from a body of voters such as Dave Grohl, Paul Reed Smith..a lot of well known name. It's cool to get recognized. We do this because we love it, not for the accolades. But that being said, it always feels good to be holding a giant plaque, and being recognized to putting in a lot of work. I hope they keep building the awards and keep growing the event.
Q: As an artist, it has to feel good when you get on stage and the crowd goes nuts.
Oh yeah, it's like the ultimate high. It's the reason why we're doing this. Anyone can put out music, and put it out on the internet, but the live aspect is why so many musicians sacrifice what they do. It's for that connection. Knowing that something you've created, you're playing in that moment, people are connecting  to it. Like dancing, bobbing their head, or jumping around. It's the ultimate gratification and reward of doing what we do.
Q: I read on your website that you guys are involved in charity work. What are some of the charities?
We did a charity event last year in Boston for Chad Stokes' charity. We spent the day with them actually. One of the projects they were doing was making farms in the inner city, so people can have fresh organic food. We helped them plant flowers and crops. Another charity local is There Goes My Hero. We've done some Habitat For Humanity stuff. Recently we've gotten in contact with NORML, the National Reformation of Marijuana Laws. We're all about giving back, and supporting causes we believe in.
Q: What is your favorite part of being in the Maryland music scene?
My favorite part is how collaborative and accessible people are here. There's a lot of talent her. I'm originally from the Mid-West and I moved out to the East Coast, I was surprised how much talent and great bands were here. It really seems to be in an upswing. I can tell by the formation of the Maryland Music Awards..Pier 6, having all these national bands coming through Baltimore lately.
Q: What is your favorite venue to play?
8×10 in Fed Hill is always a favorite. We've had some of the best shows we've had there. It's a great size, it's a small room. The sound is great, so is the staff. It's intimate.
Fiction 20 Down will be playing 8×10 March 6th. Buy tickets HERE
Follow Fiction 20 Down on Facebook and Twitter
Visit their official website HERE