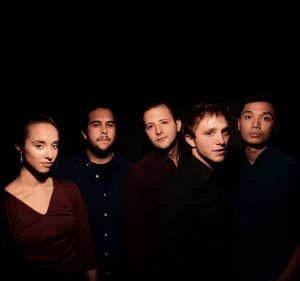 I talked to Ryan from Wyland, who will be playing The Wind Up Space Friday, March 13th in Baltimore!
Q: How did Wyland form?
Me and the pianist, Pablo, grew up together in Kearny, New Jersey. We were in and out of bands for a while. Punk rock bands to classic rock bands, cover bands. About two years ago I was working on a bunch of stuff on my own, and I thought they could 'be something. really cool.' I showed him the songs and he was on board. Getting a band together was really hard. A lot of the people we knew were already in projects or bands of their own. Once we were ready t record, we put out a Craigslist ad. Only ONE guy responded. This guy was from California who had just came to New Jersey to do music therapy for Montclair State University. He said that he was sick and tired of the classical music route, and he just wanted to join a band. He liked what he heard, so he came to one practice of ours and it was magic. Since he was going to Montclair, he knew someone named Kara, who played upright bass. We went into the studio, and hire a studio drummer. We weren't really feeling any of those guys, but the guy who we were recording with knew someone. His name is Matt, and he's now our drummer. It was the right combination of people at the right time.
Q: How would you describe Wyland's genre of music?
I take a lot of influence from bands like U2, Mumford and Sons, and Coldplay. We have that alternative rock sound. I've been told we have a taste of the 90's in our sound. But what we're trying to do now, is take our sound and mix it with what's in now. We're all in our mid-20's..adding beats over the drums, stuff like that.
Q: Do you have any influences?
Old U2, not new U2. (laughs)
Q: When did you know you wanted to be a musician?
Somehow, in someway I feel like I was a musician before I was a musician. I remember being in school plays, and I'd always get the lead part. I would always think to myself "Why is this guy making me sing in front of everyone?" After a while, I started to notice that I had potential to have a good voice. I always felt music transcended, gender, race, everything. It connects human beings, and appreciated that and loved that. I guess from Simon & Garfunkel, U2, Lynyrd Skynyrd..stuff that my dad listened to when I was little, I just kind of wanted to influence people. I wanted that timeless event where you listen to a song and it brings you back 20 years. I was probably around 11 or 12 when I said "This is what I want to do with my life. "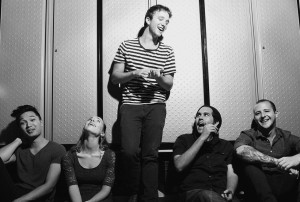 Q: Do you have a favorite song you've written? Favorite you perform?
The favorite that we've written is off the new EP, "Lifeboats." It's my favorite because it sounds like it's the deepest song we have. I wrote it down at a friends shore house. I was alone in his attic, and I had the image of lifeboats in the ocean saving people. I tuned down my guitar, and started playing a D Major, and added a weird note that was supposed to be dissident, but it worked well. I wrote that song LITERALLY in five minutes. I shit you not. It was the most beautiful experience of my life. It was gorgeous. It was like something was working through me.
Performance wise, it's probably "Rust and Bone." We open with that song, and we it's a lot different than the recorded version. We have this sound that introduces the song. Everyone refers to it as a slot machine sound, but they're pitched. It turns peoples heads, and they go "What is that, and how is that going to work?" Then we just hit into it VERY strong.
Q: How does it feel playing with Taking Back Sunday in Atlantic City?
We've played a few festivals before, but Taking Back Sunday holds a sweet spot for me. I was in junior high when they came out with "Tell All Of Your Friends", and I remember thinking it was fucking genius. Musically it was something new at the time. That band has had such an impact on my teen years, and to be playing with them is just insane. I'm very excited to share the stage with those guys. We're blessed to be on stage with people who we've looked up to.
Q: What has been your favorite venue or festival to play?
Festival wise, we played the Skate and Surf Festival. In terms of sound and energy, that was my favorite. You're in front of a sea of people. You sound great because the sound guys are professional and know what they're doing. Playing outside is very different from playing indoors, because everything isn't reflecting. Being on stage with that is just so cool. That was the moment where I felt I was a professional.
Q: What is your favorite part of playing live music?
My favorite part is connecting with strangers. I feel like being in a band, you always want to go right to the top. But it's so important to start and play for no one. Having people sing with you and make a melody in the moment, which we do a lot, it creates this sense of community. You're all ONE for that one moment.
Catch Wyland March 13th, at The Wind Up Space in Baltimore!
Download their EP's from iTunes HERE
Visit their official website HERE