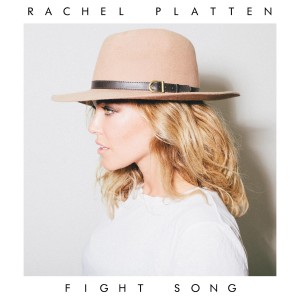 I spoke to singer/songwriter about touring with Andy Grammer and her inspirational hit "Fight Song."
Q: When did you learn to play the piano?
I was five. I took lessons until I was in high school.
Q: Do you have any musical influences?
Yes! I have many. I love Motown, alternative, classical. They span a lot of genres.
Q: When did you start beat boxing?
I liked The Roots growing up. The people around me were beat boxing, so I learned it. I walked into a party once and said "Look what I can do!"
Q: What is it like performing in front of a live audience?
I get butterflies. Fireworks go off in my head. I do however get a tiny bit of anxiety. It's like a big surprise party. It's incredible.
Q: What is your favorite song that you've written?
"Fight Song." Nothing feels more real than that.
Q: Andy Grammer scared you recently, and recorded it. How scared were you?
I was very scared. I wish I was cooler and more kept together. Andy's been doing it all tour. He'll jump out of the van, or he'll jump out of the corner.
Q: Do you plan revenge?
Oh yeah. I just can't say when or how in public. (laughs)
Q: Priestly and Jo here in Baltimore premiered "Fight Song" a few months ago. It's been pretty prevalent on their playlist ever since. What was your inspiration for "Fight Song?"
That's awesome! I'm so grateful for everyone bringing this song to the forefront. I was at a crossroads in my career. Things weren't going well. I just wasn't believing in myself. People were rallying behind, but I just didn't want to keep going. I had a lot of support behind me though. It was tough.
Q: What do you think of the Fight Song movement going on on Twitter, Facebook, and Instagram?
If you use the hash tag #MyFightSong, you'll see submitted posts by people all over the world on how "Fight Song" inspired them. They've mostly been about overcoming something. It's been amazing. I knew I needed the song, but it's incredible to see the bravery of others and how they want to share their own stories. It's moving. It's..very special.
Rachel is performing this Saturday with Andy Grammer and Alex & Sierra at The Filmore in Silver Spring. Buy tickets HERE