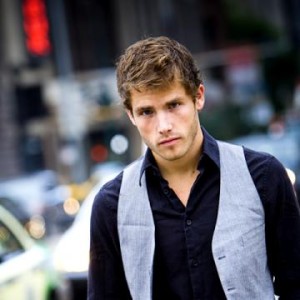 I talked with singer/songwriter Jon McLaughlin about his music and his current tour!
Q: When did you first learn to play the piano?
I started with lessons at age five. I've been playing for 28 years now.
Q: Do you have any musical influences or favorite artists?
I grew up listening to Billy Joel and Harry Connick Jr. I always wanted to be Billy Joel or Elton John. I remember the exact place I was when I heard Ben Folds for the first time. It was one of those memorable life changing kind of moments.
Q: I heard you refer to yourself as a 'Disney dork' once. What is all that about?
I grew up watching Disney movies. The music is so good. I sing all the songs to her, so she knows them now. The quality of the writing is just amazing. Some of those songs are iso conic. So when I was asked to be in "Enchanted" and sing an actual Disney song, the Disney dork definitely came out.
. Q: What was it like filming the ballroom room scene for "Enchanted?"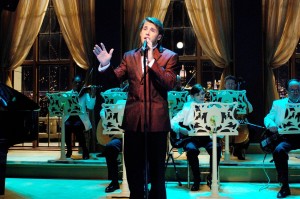 I had never done something like that before.  There were a couple hundred people in this amazing ballroom, in this warehouse. I had the BEST view. I was in the middle of everything.  There was glitter..everywhere. It took us about a week to film.
Q: Were you nervous performing "So Close" at the Academy Awards?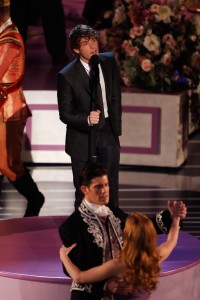 I was more nervous than I have ever been in my entire life.  It's just one of those moments that you can't wrap your mind around.  Over 100 million viewers? No pressure! ::laughs::
Q: Favorite song you've written?
Wow. That's tough to pick a favorite. I would have to say either "Indiana" or "If Only I."
Q: Favorite song to perform?
That changes. With a band, it has to be "Why I'm Talking To You." That seems to be a crowd favorite. There's a call response to get audience involved. When I'm playing solo, it's usually a cover song. I try to change those up.
Q: What is your song "Beautiful Disaster" about?
I wrote that with a friend of mine. We wrote that the first day we met.The idea started when I was looking in magazines at the airport. The model was incredibly skinny on the cover. The magazine didn't say how skinny she was. I was thinking about the girls around the world, who would see the cover and ask themselves what is wrong with their bodies.  The song is from the  perspective of a teenage girl. I know that issue of self-esteem is such a universal thing. It's not exclusive to teenage girls, but that demo hits the mark.
Q: Favorite part about singing in front of a live audience?
Its my favorite thing. There are different aspects of being artist: the writing part, the travel part, playing the live shows, recording studio. I think by far playing live is my favorite because you get to see the effect of this music you've created. Being face to face with fans singing the songs back to you..it's the best feeling. . I feel like when I havent been on the road for a while, I start to get a little antsy. I need to do one tour a year where I can get out and reconnect with the fans who are paying my bills. ::laughs::
Q: Your songs have been featured in "Georgia Rule", "Ghost Whisperer", "Flashpoint",  "Scrubs", and most recently "Madam Secretary."  As an artist, that has to feel amazing hearing your work in visual media.
Oh yeah.  Especially when it's a show you love, like "Madam Secretary." It's a cool, weird sensation hearing your voice, and someone creating another art form and taking your song and interpreting it. Making a statement within their own creation, using your little statement. It's incredible.
Q: Recently, you've tweeted that "songwriting is the best" and "songwriting is the worst." What is the most challenging part of songwriting?
Oh man. For me sometimes its just getting started. It's a weird thing. You sit down at the piano or guitar and get into a song where you feel like you're writing a good song. When u get in t hat zone and have a song going, that's when it s the best. Inspired, exciting. After its over, that in between is such a scary time. It's a common thing for us songwriters to feel every song we write is potentially the last song we right.There's a little voice inside that goes "This will probably be the last good song you'll ever right." Until you get another idea, it's nerve wracking. I like to write at night..around 10 or 11pm. I could sit at the piano for two to three hours, and nothing comes.
Q: The tour date here in DC is a show with Dave Barnes and Matt Wertz. How long have you known them?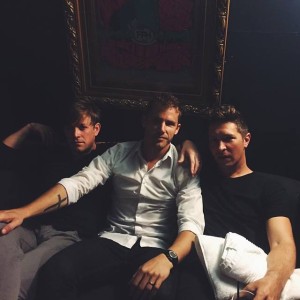 I met them 13years ago. They came and played at my college. We've known each other ever since.  I opened up for them one of their shows in Indiana. This is a revival of an old tour they did back in the day. It seemed fitting that the three of us go out on the road together!
Q: What can we expect from Jon McLaughlin in the rest of 2015?
Right now I'm working on a new record. I've also been writing a lot. Once the tour dates are done, I'm going to the studio and hopefully put it out in the summer. A possible tour in October as well.
Want to see Jon McLaughlin at The Howard Theatre this weekend? Click HERE