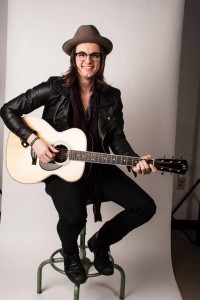 I talked with D.C. native, Paul Pfau about his music, being on "The Voice", and touring.
Q: Who are your musical influences?
Oh man, there's so many. Eric Clapton, Stevie Ray Vaughan, Jimi Hendrix,The Beatles, The Eagles, Crosby, Stills, Nash & Young..I could go on and on.

Q: What is your musical style?
My older stuff had a classic country, spaghetti western sort of feel. The new stuff I've been recording I would describe as "other." It doesn't really fit into any one box. I'm just a songwriter staying open to all genres.

Q: What was going through your mind when you were in front of "The Voice" judges, singing "Fly Me To The Moon?"
Not much actually. I cleared my mind, and try to focus on the performance like I was playing a show. It was nerve-wracking of course, but my number one priority was making the song as good as I could make it. Connecting with them as much as possible.
Q: What did you learn about being on "The Voice?"
I learned a lot. I'm back on the road now, touring with Luke Wade, and playing solo shows. I'm more confident..more focused. This is what I'm supposed to be doing. I'm a much better performer and studio musician for sure.
Q: What was like it like working with Pharrell?
It was..pretty crazy. It's hard to describe really. It was unbelievable. He's so focused on letting us grow as artists, and less on telling us what he thinks we should do. He helped me be creative. Let me be me. One of the cooler moments of my life so far.

Q: Favorite song you've written?
From my debut album, it would have to be "Send Your Love." Of my new material, it has to be a song called "Pillow Talk." A lot more people have been showing up at my solo gigs due to being on "The Voice." I love when they come up to me and tell me they enjoy my new stuff.

Q: Best part about performing live?
That instant connection with the fans and listeners. I love their immediate reaction during songs, or when I try a new guitar riff. They'll shout out "YEAH!" The banter between songs can be great as well. You're in the moment, so it can go anywhere. The energy from the audience gets me pumped.
Q: Are you excited about your current tour?
Yes! I've done some touring before, but after being on "The Voice" the coolest thing is to go out and meet people who supported you. Connecting with them, shaking their hands, giving them hugs..even saying "Thank You." You have to grow and sustain those relationships.
Paul is headlining the Highlandtown Wine Festival this Sunday. Here's the flyer for more info: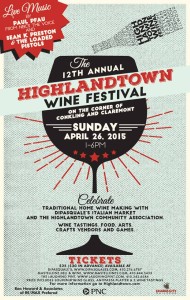 Order advance tickets HERE