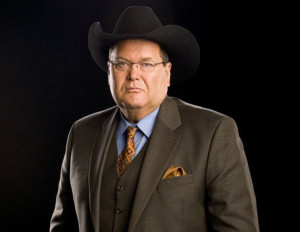 Q: What was your first commentating gig?
I was the voice of my college football team for Oklahoma State University. My first job was at their little radio station during my sophomore year. I made $15 a game. If the trips were long, we would have to leave in the middle of the night, and then drive back as soon as the game was over. It was a good start. Can't finish a journey, if you don't start one.
Q: Do you have a favorite match that you've called?
I don't have a 'favorite' match. It would be like asking 'What's your favorite meal your wife cooks?' I think every match is significant in their own way. My most memorable would have to be Undertaker Vs. Mick Foley. That commentary has lived for years. No one expected to see what we saw that night.
Q: How does it feel being known as The Voice Of The WWE?
It's a pretty big title. I don't know if that's entirely accurate (laughs), but for that call me that I'm not gonna run from it. I'm honored and I'm humbled.
Q: What was it like being inducted in to the WWE Hall Of Fame?
It was a big honor. Unexpected. My family and friends were all there. I was having bouts of Bells Palsy, but I had to persevere. Having Austin induct me was..so special. It came as a surprise. I still wear my Hall of Fame ring in public.
Q: You have a podcast called "The Ross Report." What is your favorite part of podcasting?
The best part is re-connecting with old friends, and making news. I can talk to people that I can't talk to on a regular basis. We're all on the road, so we can't see each a lot. I'm connected to a great fan base that have supported me for a long time. They send me questions and comments, and I even some of those in my podcast. It's a blessing.

Q: How did your line of sauces come about?
My wife is a VERY good cook. Her and my mom got along great. After my mom's passing, we tried to replicate her homemade BBQ sauce. I was an only child, and my mom always had a day job. We smoked a lot of our own meals. We cooked ribs, brisket..all kinds of things outside. My job was to make sure the smoker stayed a certain degree so the fire didn't go out. Mom would come home and whip up her homemade BBQ sauce and we would be set. I'll be adding some products at the Baltimore Ring Side LIVE show on the 16th.

Q: Are you excited for your show, Ringside Live in Baltimore?
Oh yes. Very much so. Baltimore has such a long, rich wrestling history. I was very fortunate to be apart of it. I grew up a big Baltimore Colts fan. They were on TV a lot here in Oklahoma. I can remember so many of the players. Unitas and his high top shoes. Art Donovan. A good friend of mine, Joe Washington, played for Baltimore. It's such a special town.  I want to catch an Orioles game for sure. Grab a crab cake or two. I love Little Italy. Sabatino's is the unofficial wrestlers restaurant. ::laughs::
My show is for people who have been fans for years, or fans at some point. I have a lot of ground to cover. There's something for everyone. There will be nothing off limits.
If there's a city right now that could use some smiles and fun, it's Baltimore. We need some better days ahead. And if I can help facilitate some of those smiles, I'd be honored. Baltimore can't let the last couple weeks define them. As a guy with Bells palsy, I'm not supposed to be on TV, or be a commentator. But I persevered, and overcame that. We should learn from this tragedy, and learn from the chaos, and be ahead of the curve fixing what needs to be fixed.
Buy tickets for Jim's show at Rams Head Live HERE