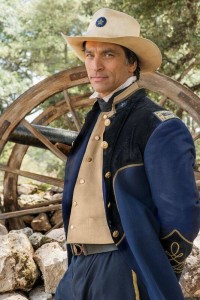 I talked to Maryland native, Johnathon Schaech, about his new miniseries "Texas Rising", and the My B-More campaign.


Q: Do you have a favorite childhood memory of Baltimore?
Childhood IS Baltimore. I witness the 1983 Orioles first hand. It was..Orioles Magic. It was incredible witnessing that phenomenon. I appreciate the comeback mentality of the team the past few years even more.

Q: What is like being a part of the new "My Bmore" campaign?
I was so grateful they wanted me to be a part of it. I love Baltimore. It's my home. No matter where I've been in the world, I've had family or friends keep me up to date on how the Ravens and Orioles have been doing, if I haven't had a chance to see the games. I always have to come back to L.A., but I can't let Baltimore go.
Q: You're in a new miniseries called "Texas Rising." What is it about, and who do you play?
I play Colonel Sherman. He turned out to be the head of the militia of Texas. This all happens after the Alamo. A turning point in the revolution against the Mexican troops. I'm the antagonist to Bill Paxton' character. When I first signed up to do it, I thought it was going to be a theatrical movie. When I got there, I found it was going to be a miniseries. It was originally supposed to be 8 hours, but in the end they filmed 10 hours. The History Channel made it bigger and better. There are.. a LOT of characters in this film. I'm so excited how good it came out.
Q: What was it like filming in Mexico?
We shot in Durango, Mexico. The cool part, is that is where a lot of the John Wayne movies were made. The bad part? It's VERY hard to get to.
Q: What was it like working with Bill Paxton and the huge ensemble cast?

I got to see a true artist paint a canvas with Bill Paxton. I got to watch a master create something so special in his nuance..his palate of difference. He tried so many different things. He BECAME Sam Houston. Most of my scenes are with him. Another great performance in the film is given by Jeffrey Dean Morgan. He's a featured ranger. His..depth of emotion should win him every acting accolade out there. He lost thirty five pounds to play a cowboy. There's a scene where he kills his horse..that was on the call sheet everyday. He had to stay there every day of shooting. You can't imagine being away from your loved ones that long. But when you see his work, it paid off. It's breathtaking. Cynthia Addai-Robinson plays the "Yellow Rose of Texas." This is her breakthrough role. I think we're going to be seeing a lot of her in the future!
"Texas Rising" begins airing Monday at 9pm on The History Channel!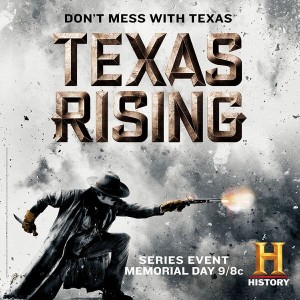 Follow Johnathon on Twitter