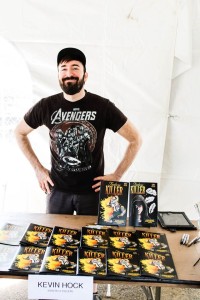 I talked with Kevin Hock about his comic book series, "Fantasy Killer", his love for horror films and the convention scene.

Q: Is "Fantasy Killer" your first published work?

It is! It's a four issue limited series. I felt doing four issues was a feasible goal. I thought to myself, 'Why don't I tell a story?' I had the timeline of the whole story in my head. It's been a blast. Issues one and two are out now, and Issue 3 should be out soon.
Q: What is "Fantasy Killer" about?

It's a horror/dark comedy. The main character is Alex McCormick. He's a failed musician. He was inches away from fame, but it was yanked away. He now works retail, and is frustrated with life. He starts having hallucinations of killing people. But in his real life, he's becoming borderline violent.

Q: Are you a horror fan yourself? Do you have any favorite horror films?
I love everything, but yeah, I LOVE horror. The bad, or silly, horror films can be fun like. Like "Evil Dead" or "Army of Darkness." "Army Of Darkness" is probably my favorite funny horror film. "American Psycho" is another great one. A recent horror film I like is "Insidious." It's scary, but is whacky at the same time.
Q: What has been the response for "Fantasy Killer" Issue #1 and Issue #2?
It's been incredible. Especially the people in Maryland. I'm just a normal guy, hitting the pavement and doing the convention circuit. Third Eye Comics in Annapolis has helped out tremendously. They've stocked it next to the latest "Fantastic Four" issue, and would tell customers about it randomly. I've sold a couple thousand copies so far.

Q: What is your favorite part of going to conventions?
I love seeing people in their costumes. The funny thing is that sometimes they spend hours on costumes, but half of them don't read comics, or buy anything from anyone at the convention. ::laughs:: I love meeting new people who love comics, and even meeting writers who I admire. I've given a few of them my novel, and they've been encouraging.

Q: Do you have any other projects lined up?
I do! I'm doing a Baltimore story called "Swan Song." Without giving too much away, it's about a man who just lost his job in Baltimore, and is on his death bed. I want it to be a big Baltimore project. Sound Garden is in one issue, Third Eye Comics is in another. Even Harbor East has a cameo. There are local Easter eggs hidden in the story. I wanted it to be 100% Baltimore..a big shout out to the city where I grew up.
Kevin will be at Awesome Con in D.C. this weekend to promote "Fantasy Killer."
Buy "Fantasy Killer" HERE