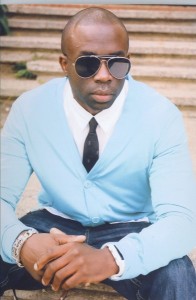 Q: Where were you born, and where did you grow up?
I was born in the UK. I grew up in an area called Leytonstone, a really fun area kids. It's funny, David Beckham grew up in the same area, and his parents still live there. I'm here in U.K. now, and got to speak to one of the local schools here recently.

Q: Why did you get into the Entertainment Industry? What was your first gig?
I knew this is what I wanted to do. My dad said that since I was three years old, I would practice interviewing people in the mirror. My first real gig was in Junior High, when Levi's came to my school and picked some students to do a commercial. My first real break came after high school, when I booked the big, international Tommy Hilfiger campaign.

Q: Which do you prefer: acting, modeling, or hosting?
I like everything I do because they give me a different high. I think I'm great at hosting, because I love people, and I think it comes across on camera.

Q: What was it like being named one of the Top 10 Male Models in The World?
The first time I was ever named a top model was actually in YM magazine. It was a teeny bopper magazine. It felt really good..so overwhelming! Then "Today's Black Woman" named one of The 50 Most Beautiful People In The World, two years in a row. Then the sisters REALLY started noticing me ::laughs::
Q: Favorite celebrity you've interviewed?
Beyonce. By far. We did a film together ("Carmen: A Hip Hopera") and we became really good friends. She's truly one of the best human beings I've ever been around.
Q: What has it been like working on "BONES?"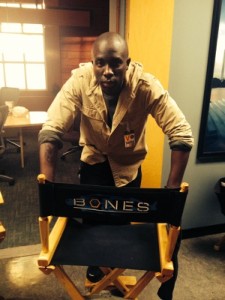 I'm having a blast! My character was just introduced out here in London, so it's cool being here as that happens. The character is really cool, and I love having arcs on shows.
Q: You've been cast in the FOX pilot "Studio City", starring Eric McCormack. Can you tell us anything about the show and who you play?
"Studio City" is a one hour drama about a young singer who discovers her songwriter father is a drug dealer to the stars.  I play a rap star that her dad, played by Eric McCormack, asks to produce her and make her a star. It  was amazing to be a part of. I loved watching two powerful women (Krista Vernoff and Sanaa Hamri) run a set the way they did.
Q: Do you have any other upcoming projects?
I have two films: "No Weapons" and "Crossed The Line." Ialso have a single out now on iTunes called "Lovin'." My album, "Mr. Fashion" will be out this Fall.  2015 has been a very busy year!
You can follow Sam on Twitter HERE