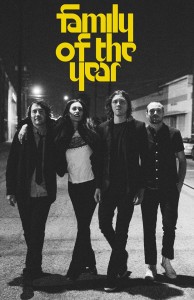 I talked with James from the band Family Of The Year, about their music, "Boyhood", and their love of touring.
Q: How did Family Of The Year form?
We all go back a pretty long time. I met Joe in Boston. But in 2007, we all connected in Los Angeles. We all took breaks from different bands and decided to jam together. It was a happy accident of sorts.
Q: Do you have any musical influences?
That's what makes this band great. We all have different influences. I grew up listening to Flaming Lips, James Taylor, Bob Dylan, and Naughty By Nature. Punk influenced me as well.
Q: Do you have a favorite song to perform live?
"Diversity."
Q: What is your favorite part about performing in front of audience?
It changes. I think when you're growing up, we had a place where we remember seeing your favorite artist, and being so excited and hyped. Once you get into the business it changes obviously. We try to bring that youthful excitement to our shows. Crowd surfing is the best!
Q: Quite a few of your songs have been featured in films and tv shows. "Hero" was featured in the Academy Award winning film,  "Boyhood." How does it feel hearing your songs in visual media?
In "Boyhood," our song "Hero" is used in an emotional moment. The kid in the movie is going off to college, following a big scene with his mom, played by Patricia Arquette. While in the screening, I thought "I can't cry! I can't look teary eyed!" ::laughs:: It was a weird experience. It's been a song of ours for a while, but they put
into a different scope of sorts.
Q: What is life on the road like?
It's great. It's your dream to travel around, and to sign your music. It's..crazy. A dream come true. Everyday is the same essentially…it's like anyone's normal work day. You see things you may not normally see, so that's cool. We've all worked extremely hard to get where we are. We're so appreciative…we don't take any of this for granted.
Family Of The Year takes the stage Thursday at the Fillmore Silver Spring. Buy tickets HERE
Follow Family Of The Year on Twitter