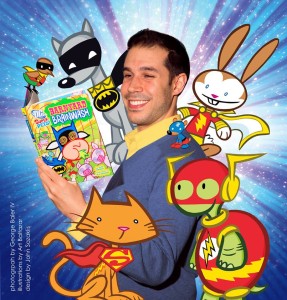 I talked to author John Sazaklis about his work and love of conventions.
Q: Where did you grow up?
I grew up on Long Island, New York, in a town called Hicksville. The best part about it was my family's doughnut shop, The House Of Donuts. I worked there for 25 years.
Q:  When did you start writing stories?
I've been writing stories since I was five. I come from a long line of storytellers. My dad is a storyteller, and my mom is artistic. I got my melodramatic ways from both of them.
Q: What was your first published story?
My first published story was "Batman: Gotham Villains Unleashed." We start writing about  a year in advance, so we can hire an illustrator, edit, and then distribute it. The first story I wrote however, was "Spiderman Vs. Venom."
Q: Did you like the characters you write about now as a kid?
I grow up at the height of Batmania 1989. I got sucked into the mysteries and the world of Gotham. Aquaman is my favorite character though. As a kid, I wanted to be a marine biologist, and work with dolphins. I was lucky enough to grow up in the boom of superhero animation, like "X-Men," "Batman: The Animated Series"..list goes on and on. It was a great time to be inspired.
Q: What is your favorite part of conventions?
It's great to see people in costumes. I love connecting with other creators. I also love meeting fans, and friends I've made along the way. It's great seeing kids pick up my books, and be excited. I've had parents come up to me and say "My son or daughter loves this book", and it's so gratifying. I'm not happy if I'm not bringing art into the world.
John will be at the Pratt Library's Comic Con, Saturday June 20th at the Southeast Anchor Library.  Info HERE
Visit John's Facebook and Website