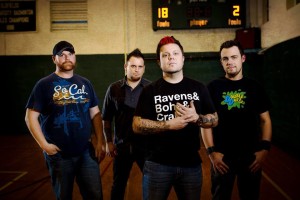 I talked to local band "Here's To The Night" about their love for music, and their upcoming show at Powerplant Live!
Q: How did Here's To the Night form?
We've all been involved in various projects over the last decade or so and found each other based on a mutual love of the 90s. Our desire was to create a project that conveyed our passion for the era and translated into audiences being just as excited as we were.
Q: What is your favorite song from the 90's?
Danny: This is a loaded question. My favorite part about 90s music in general is all of the awesome memories that come to the surface when I hear a specific song. If I had to choose one, I'd say "Semi-Charmed Life". I often joke on stage that it's the 90s National Anthem…I think that whole s/t Third Eye Blind record really bridged the gap between the early-90s grunge and the pop/rock explosion of the mid-90s. I still listen to it all the time.
Steve: No question, it's "Heartspark Dollarsign" by Everclear. Cool hooks, clever structure and good lyrics. Reminds me of sitting in my room back in the day, learning from different tab books and scratched up CDs.
Rooobyn: "Fuel" by Metallica.
Marty: "Motorcycle Drive By" by Third Eye Blind. Reminds me of ex-girlfriends, my first car and transferring CDs to cassettes, so I could actually listen to them in my car.
Q: What is your favorite song to perform?
Danny: "I Want it That Way" and "…baby One More Time" are neck and neck for me…strictly for the way the audience reacts. All the feels. All of them.
Steve: "I Want it That Way" or "Iris"…dudes hugging and crying the whole song. Heartwarming.
Rooobyn: "Semi-Charmed Life" or "Say it Ain't So"
Marty: "…baby One More Time"- no matter how many times I play it, it always feels a little embarrassing, but the look on people's faces is well worth it.
Q: What is your favorite thing about the 90's?
Danny: Kelly Kapowski………..and the diversity of the music and the pop culture. It's almost like it was two or three decades woven into one
Steve: Reminds me of a simpler time when everything was fun and my only responsibilities were showering and not being a smart mouth to my parents. Oh, and Rugrats on Nickelodeon.
Rooobyn: Everything about the 90s was great, to me. We all did most of our growing up in the 90s, so that era really shaped me into who I am today. From the music, to the fashion, to TV shows. I started playing drums because I couldn't get enough of the music. Grunge, metal, pop, rap…I loved it all. Same with the fashion…JNCO Jeans, band tees, skate shows, chain wallets…I had the full 90s uniform.
Marty: We were right on the cusp of full blown social media, so we still understood what it was like to have to call and talk to parents and decipher pager messages with the best of them.
Q: Favorite part of performing live?
Danny: Connecting with the audience is the most exhilarating thing about any live performance. With Here's to the Night, it's so rewarding to look out into the audience and see people truly become immersed in the nostalgia of all of the great songs from the era.
Steve: Seeing people sing, dance and enjoy the tunes as if they were new again. That's kind of the whole idea behind this band…to take people back in time, to the days of TGIF shows and Tamagotchis.
Rooobyn: I absolutely love when the lights go black and our intro comes on and you get to walk out onto the stage and the crowd goes crazy. It's funny, we are playing other people's songs, but the crowds cheer and get into it just like they would if those bands were in front of them. It's crazy, but cool at the same time. I think that's because we really do our best to take people back to those days and faithfully recreate the songs that remind them of growing up and becoming who they are. You can see all kinds of nostalgic bliss in people's faces when we kick into different songs.
Marty: Getting to bring the songs I grew up with to tons of new people every week and hearing how those songs can evoke completely different memories for each person.
Q: What is the Clash Of The Decades?
A clash of the unforgettable songs of the 80s & 90s, supplied by two of the premier acts in the Mid-Atlantic: The New Romance & Here's to the Night! The events are a blast, and we weave in guest DJs/hosts, to create a unique, can't-miss experience each and every time.
We are really looking forward to the FREE event at Power Plant LIVE! On Friday, July 24th. It will be hosted by *NSYNC's Chris Kirkpatrick.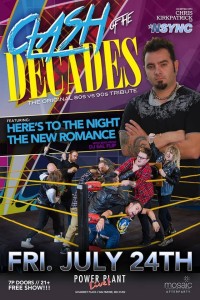 Here's To The Night and The New Romance CLASH this Friday at Powerplant Live! NSYNC's Chris Kirkpatrick hosts!
Follow Here's To The Night on Twitter