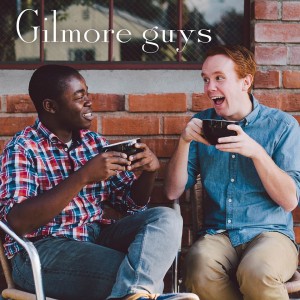 I chatted with Kevin and Demi, a.k.a. The Gilmore Guys, about their love for "Gilmore Girls", and their podcast.
 Q: How did you guys meet?
Kevin: We knew each other through acquaintances. I followed Demi on social media..I enjoyed his posts and vines. We met a few years ago.
Q: What made you fall in love with "Gilmore Girls?"
Kevin: I grew up on the show. I enjoyed it as a kid. I was about 14 or so. As a 14 year old boy, it wasn't a popular thing to say you were watching. I thought "I think watching this show will come in handy one day." And look at that..I'm being interviewed to promote our website!
Demi: My favorite thing is how they created their cast of characters. They can be unlikable, and you still feel a connection. Their flaws are REAL flaws. There are great moments where you feel good for them.
Q; Do you have a favorite character?
Kevin:  Emily Gilmore, played by great Kelly Bishop. Someone without whom the show wouldn't work, because of her relationship/conflict with Lorelei.  It's the heart of the show. She's the third Gilmore girl, no doubt.
Demi: Paris. She's a firecracker. She's smart, and the funniest person on the show. She's clever, that's simultaneously cruel AND brilliant.
Q: What is your favorite part of doing the Gilmore Guys podcast?
Kevin: Connecting with people on our mutual love of "Gilmore Girls." Also, it's awesome talking to listeners who enjoy our show. We get tweets and messages from people around the world, and they share their stories about what the show and podcast mean to them. I love being able to talk about the show, after we've watched an episode. Love chatting with the guests we have on. It's humbling.
Demi: For me, it's connecting with our guests, and being able to banter and laugh about the show with others.
Q: Have you met any of the stars?
Kevin: We've met most of the cast. Scott Patterson and Keiko Agena have been on our show as well. Kelly Bishop recorded a 15 minute interview for us once.
Q: Why did you decide to take the podcast on the road?
Kevin: It's a natural extension of what we do. We've had an insane large response via email and Twitter. We wanted to come together with the fans and celebrate the show.
The Gilmore Guys will be LIVE in DC August 22nd at the Sixth & I Synagogue. Buy tickets
Visit the Gilmore Guys Official Website